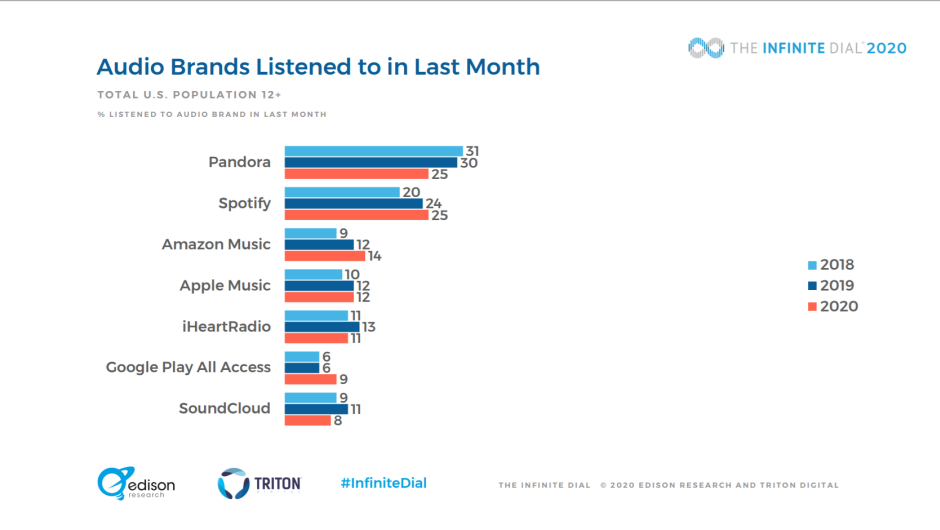 Online audio has long been one of the central topics in the Infinite Dial survey, both in tracking overall consumption and in monitoring brand rivalries in the U.S.
Monthly online audio listening in the U.S. reached 68%, or an estimated 192 million, in 2020. While younger generations have often been the drivers of digital uptake, this time the growth happened in older age groups. Ages 35-54 saw monthly listening rise from 70% in 2019 to 76% in 2020. Ages 55+ also edged up from 40% in 2019 to 42% in 2020. The 12-34 group actually contracted from 87% to 86%.
Weekly online audio listening held steady at 60%, same as the year before, at an estimated 169 million people. The average time spent listening for the weekly online cohort was 15 hours, 12 minutes for 2020. This metric has been inconsistent over the years, hitting a peak of 16 hours, 43 minutes in 2019 after sitting at 13 hours, 40 minutes in 2018.
Pandora is still tops when it comes to audio brands, but for yet another year Spotify pushed ever closer. Pandora was the leading audio brand by awareness at 85%, down from 89% last year. iHeartRadio came next with 73% awareness, then Spotify with 72% and Apple Music at 71% and Amazon Music at 68%.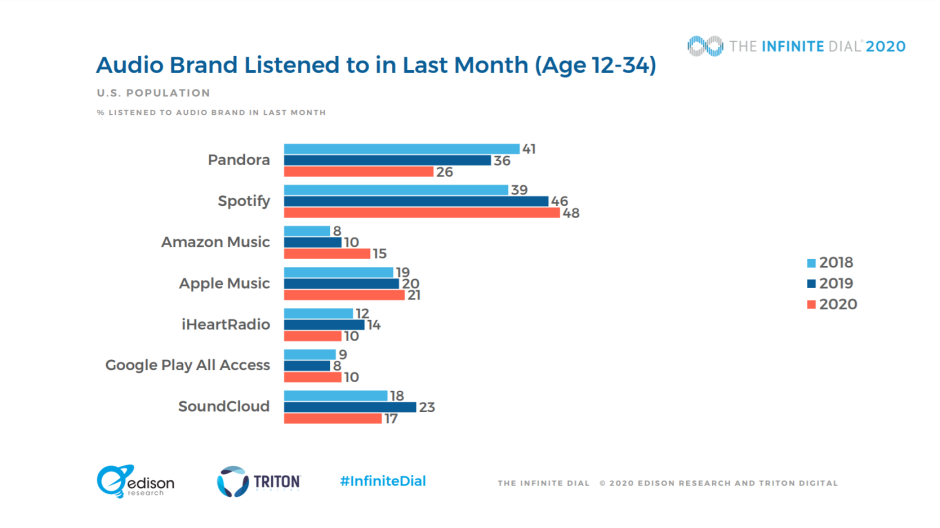 When asked about audio brands listened to among the monthly listening cohort, Pandora and Spotify drew even with 25%. That figure is a dip for Pandora, down from 30% last year, and a slight increase from Spotify's 24%. Amazon Music pulled into second place by monthly listening with 14%. Tom Webster of Edison Research highlighted the spike for Amazon Music during the webinar presentation, noting "that is certainly at least in part, possibly in large part, driven by growth in smart speakers." Apple Music maintained its 12% from 2019 for another year.
With brands, age is becoming an important factor in overall performance. Ages 12-34 have cut their monthly Pandora listening from 41% in 2018 to 26% in 2020, while Spotify, Amazon Music, and Apple Music have all seen increases since 2018. Spotify was listened to by nearly half (48%) of this bracket in the 2020 results.
Ages 35-54 showed much slower changes in both directions. Pandora listening in the past month for the bracket returned to 2018 levels of 35%. Spotify grew from 14% in 2018 to 20% this year, while Amazon Music had a similar trajectory of 13% in 2018 to 20% in 2020. The other brands tracked for this age group have remained clustered within two percentage points since 2018.
Weekly listening is now led by Spotify, with 22% of the U.S. population tuning in during the past week. Pandora took 18%, while Apple Music and Amazon Music tied at 10%.
Spotify also has the lead in terms of the most-used audio brand, taking 28% of those responses. Pandora had 24%, while Apple Music had 14%. Once again, Amazon Music had a middling 8% share among the general U.S. audience, but that figure rose to 15% when just looking at smart speaker owners. "Smart speaker ownership again does change behavior," Webster said.