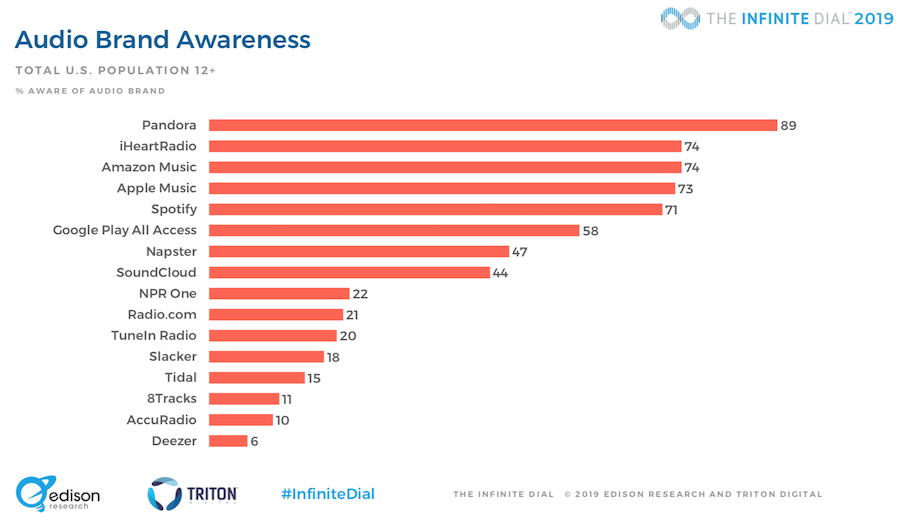 The Infinite Dial always provides a snapshot of how Americans consume audio, and as more of the country shifts to streaming models, that has created tighter competition across those platforms to be the music provider of choice. With several companies expanding their content offerings to be more than just music, and with big bucks on the line in potential acquisitions, where people listen has become an even more impactful choice in 2019.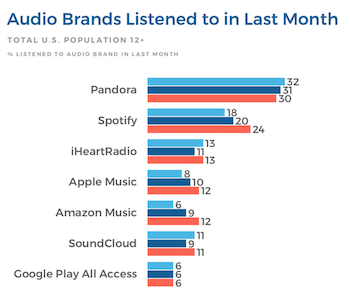 Pandora was the leader in audio brand awareness in this year's survey at 89%. iHeartRadio and Amazon Music were tied for second with 74%, closely followed by Apple Music at 73% and Spotify at 71%. Those figures marked a solid jump in awareness for the clump behind Pandora; in the 2018 report, all four of those platforms fell in the 60% range.
Pandora was also the top brand in listening. Thirty percent said they had listened to Pandora in the past month, with Spotify netting 24%. iHeartRadio had 13%, while Apple Music and Amazon Music tied with 12%.
Although Pandora was the leading response, the size of its lead has been declining. The 30% rate was down from 31% in 2018 and 32% in 2017. On the other hand, Spotify's responses have been growing, from 18% in 2017 to 20% in 2018. Apple Music and Amazon Music have also been increasing their audiences over the previous two years.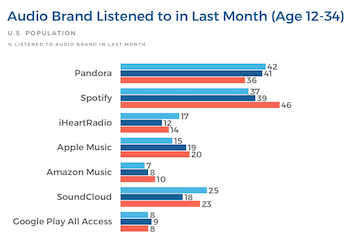 The Infinite Dial also broke out recent listening by age. The 12-34 group demonstrated a bigger decline in their Pandora usage since 2017 and a bigger leap in their Spotify use. This bracket was also more likely to use SoundCloud, with 23% of the 2019 respondents using the platform in the past month. The most notable trend in the age 35-54 group was that every audio brand posted an increase or a steady response.
Weekly listening narrowed the gap between Pandora and Spotify, which had 22% and 20% responses, respectively, for this question. Apple Music broke away with 11% and Amazon Music had 9%. iHeartRadio received 8% and Google Play All Access had 5%.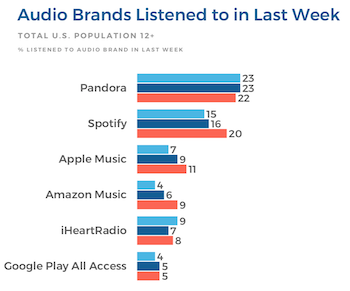 Again with the weekly listening, Pandora's responses over the years dipped slightly in 2019 after two years at 23%. Spotify, Apple Music, and Amazon Music all showed higher percentages each year from 2017 to 2019.
Pandora kept its title as the most frequently-used audio brand with a 30% share. Spotify took 25%, and again Apple Music, Amazon Music, and iHeartRadio are engaged in a scrum for the third spot. The Infinite Dial 2019 broke out one notable result that gives a rosy outlook for Amazon. While Amazon Music had a 9% share of the most often used responses, that rate nearly doubled to 16% among the people who owned a smart speaker. Given the large lead for Amazon Alexa in the report's smart speaker questions, this could be further good news for Amazon Music's performance in years to come.
YouTube continues to be an important player in audio, with 50% of the total U.S. population aged 12 and up using the platform in the past week. The weekly usage stats increased across all the age brackets.