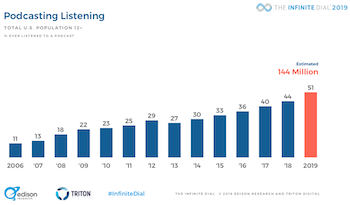 Many people within the podcasting field have had the sense that big things are afoot in audience growth, and the Infinite Dial 2019 backed that anecdotal feeling with some positive numbers about consumption of the audio format.
Familiarity with the term podcasting jumped to 70%, or an estimated 197 million people. The latest report marked a new milestone in listening, with more than half of the respondents (51%) stating that they had ever listened to a podcast. "This is podcasting crossing into the majority," Tom Webster of Edison Research noted in the presentation of the results.
Monthly podcast listening jumped up to 32%. "It's the largest percentage point gain in the history of the Infinite Dial," Webster said of the metric. The result means an estimated 90 million adults in the U.S. listened to a podcast in the past month. All age groups showed growth in the monthly listening results.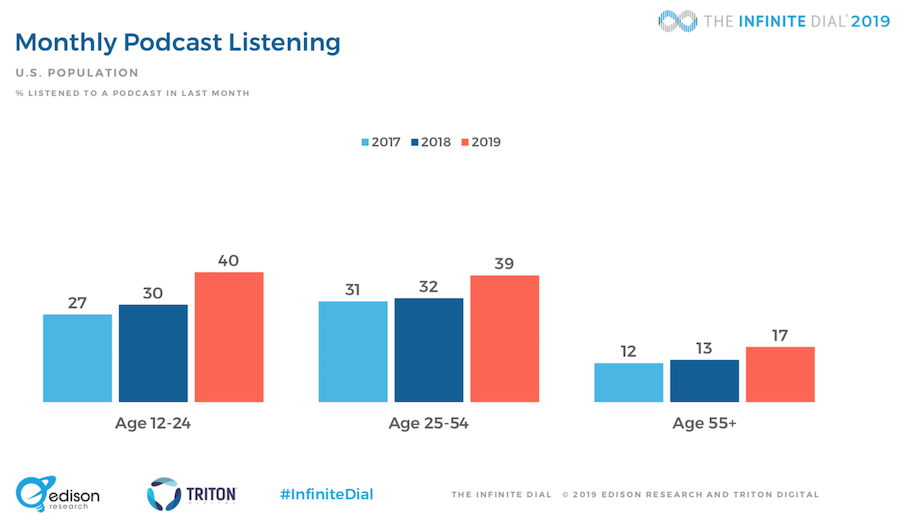 The report gave a hint that Spotify's big moves to emphasize podcasting could have a positive impact on the size of the listening audience. Among Spotify listeners in the 12-24 age bracket, the rate of monthly podcast listening leapt from 32% in 2018 to 53% in 2019. Webster was careful to note that this spike wasn't necessarily the cause of the milestone results in overall monthly listening, but did see the shift as a likely positive contribution.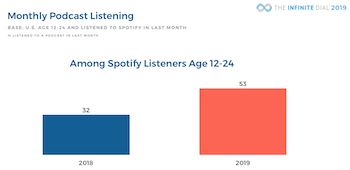 Weekly podcast listening in 2019 reached 22%, or an estimated 62 million adults. Within this audience, listeners averaged seven podcasts in the past week. The pie chart of responses for the number of podcasts listened to in the last week showed a close to even distribution. The most common response was four or five shows with 21%.