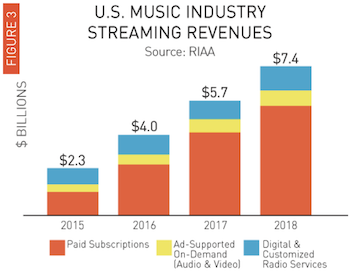 The RIAA has released its 2018 report, and the analysis includes several new firsts and milestones for the music industry. The year saw several important records logged in streaming music, which continued to be a top growth driver for music in the United States.
The recorded music market in the United States generated revenue of $9.8 billion in all of 2018. The retail value rose 12% from the $8.8 billion secured in 2017 and $7.6 billion in 2016. At wholesale vale, 2018 revenue reached $6.6 billion, up from $5.9 billion in 2017 and $5.2 billion in 2016.
Streaming was responsible for 75% of the year's music industry revenue, a portion that held steady from the RIAA's mid-year report. The $7.4 billion from streaming showed 30% growth over the previous year's total. The group noted that streaming accounted "for virtually all the revenue growth for the year."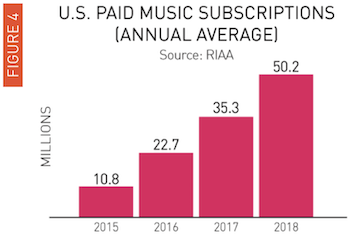 Subscriptions continued to deliver the bulk of revenue and growth for streaming. At $5.4 billion, subscription streaming is now responsible for more than half of the industry's annual revenue total. The RIAA includes limited tier services, which offer paid music access with restrictions such as reduced catalog or fewer on-demand features, in its subscription revenue total.
The number of music subscribers in the U.S. has also been on the rise. 2018 saw a 42% increase in the average number of paid subscriptions to a total of 50.2 million. It's the first time the subscriber audience has surpassed 50 million. This audience has experienced skyrocketing growth, rising steadily from just 10.8 million subscribers in 2015.
Ad-supported streaming delivered 2018 revenue of $760 million. These sources posted 15% growth for the year, contributing an 8% share of the total U.S. music market.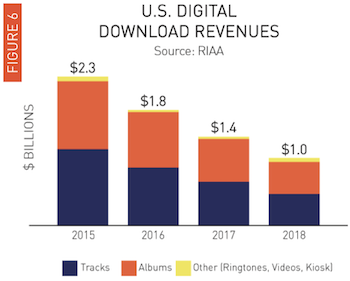 Digital and customized radio services, a category including Pandora, Sirius XM, and iHeartRadio, also had a strong year. Annual revenue for this segment exceeded $1 billion for the first time, with 32% growth bringing it to a total of $1.2 billion. SoundExchange distributions grew 46% to their own record high of $953 million, while other sources in the category generated $251 million in revenue.
While streaming continues to be the brightest star in the industry reports, digital downloads and physical sales continued their steady declines from the past few years. Revenue from digital downloads fell for a sixth consecutive year to $1.04 billion. Album downloads dipped 25% to $500 million and track downloads declined 28% to $490 million. The waning influence of downloads has seen this segment providing only an 11% share of the total industry revenue, compared with 2013 it had a 42% market share.
On the physical side, revenue fell 23% to $1.15 billion. CD revenue dropped below a billion for the first time since 1986, down 34% to $698 million. Vinyl remains a small but growing niche, with revenue up 8% to $419 million. It's the highest revenue vinyl has delivered since 1988.