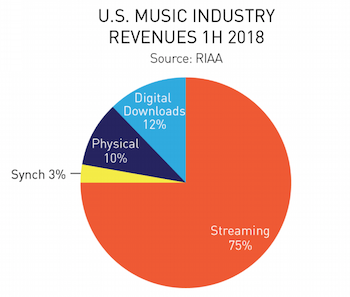 The RIAA has released its mid-year report on the U.S. music industry, and the report continues to trace a stratospheric rise for the streaming economy. Tomorrow RAIN News will publish our detailed analysis of the report, but here are the top-line takeaways.
First and foremost, streaming now accounts for 75% of the U.S. music market. The latest result continues a trend that has been spiraling upward for the past several releases of the RIAA reports.
Within that overall streaming market, paid subscriptions are still delivering the majority of revenue. For the first half, revenue from streaming subscriptions reached more than $2.5 billion.
The successes for streaming helped spur 10% overall growth in revenue over the first half of 2017. The total recorded music market generated revenue of $4.6 billion during the period.
Based on the H1 results, the full 2018 fiscal year is on track to reach revenue of $9.2 billion. If achieved, that would point to a big leap in repairing the hits sustained by the music industry with the initial shift toward digital listening and away from CDs.