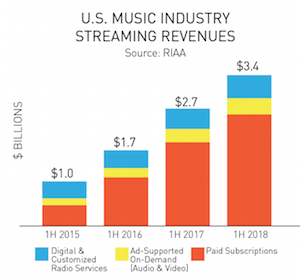 Yesterday, the RIAA mid-year report arrived with a few big bullet points, including a 75% share of the U.S. music industry revenue for streaming. Today, we offer a more granular look at where that growth occurred, and where the sector continues to struggle.
Streaming is driving overall success for the market, which reached revenue of $4.6 billion for the first half of 2018. That figure is up from $4.2 billion in the first half of 2017 and $3.5 billion in the first half of 2016.
Streaming music revenue increased 28% on-year to reach $3.4 billion for the period. Paid subscriptions generated the majority (75%) of that revenue total, increasing 33% to $2.5 billion. The share contributed by subscriptions in H1 has steadily grown since 2015. The subscription total includes both full-service on-demand access and limited tier access, which covers bundles and lower-cost memberships such as Amazon Prime Music and Pandora Plus. The limited tiers delivered revenue of $354 million for the half.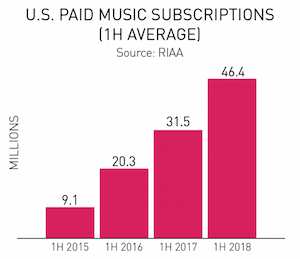 The number of paying subscribers has also continued to grow. For the first half, the subscriber audience grew 48% to an average of 46.4 million. That rate yields an average of more than 1 million subscriptions per month compared with the 31.5 million subscribers in H1 2017. The RIAA only tracks full on-demand listeners for this report (no limited tier numbers).
The two smaller slices of streaming revenue are digital and customized radio services and ad-supported on-demand media. The former contributed first-half revenue of $528 million, and the latter, combining audio and video sources, had $369 million. The ad-supported revenue did rise 21% year-over-year, but it still only accounts for 11% of the total revenue from streaming services.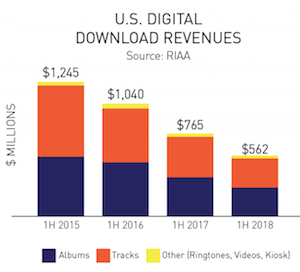 The metrics for both digital downloads and physical products continued their downward trend. Digital download revenue fell 27% to $562 million, marking the lowest total for this category in more than a decade. These formats only provided 12% of the total industry revenue for the period. Sales of physical products dropped 25% to $462 million. CD sales fell even faster, down 41% for the half, while vinyl sales perked up 13%. Physical formats now provide a 10% share of the industry total.
Overall, the trends of the first half are following the trajectories set out in the RIAA's 2017 analysis. Streaming, mostly in subscriptions, continues to amass a larger audience and a larger slice of the financial pie. Downloads and CDs continue to wane in influence.