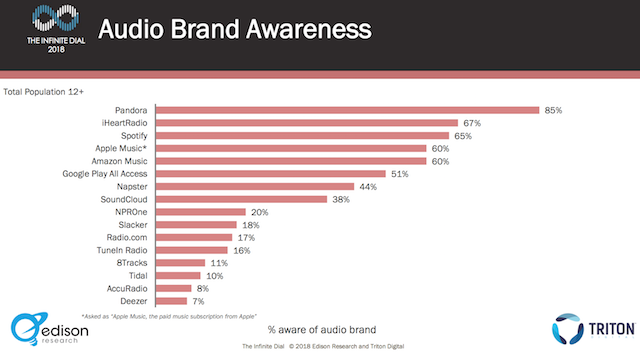 Pandora continues to top the awareness of audio brands in the Infinite Dial 2018. The audio company had 85% awareness among the respondents. iHeartRadio rated second in awareness at 67%, followed by Spotify at 65%. Both Apple Music and Amazon Music clocked in with 60%.
Pandora also led in listening, with 31% of respondents tuning in to the service in the past month. Spotify took 20%, with iHeartRadio and Apple Music trailing at 11% and 10%, respectively. Pandora's percentage dipped from the 32% in reported in both 2016 and 2017. Spotify, on the other hand, has increased its share each year, with 13% in 2016 and 18% in 2017.
The Infinite Dial also asked about listening habits in the past week. In that time frame, Pandora led with 23% and Spotify had 16%. Apple Music took 9%. Again, Pandora's rate was lower than it was in 2016. In contrast, Spotify, Amazon Music, and Google Play All Access each had their highest rate in the past three years with the 2018 results.
The research also investigated which audio brand people used most often. Across the general audience, Pandora took a 35% share, followed by Spotify at 21%.
Interestingly, Edison and Triton broke out the "used most often" data based on smart speaker ownership. Having one of the devices has a notable impact on the most-used brands. Across all respondents, Amazon Music was the most-used audio brand for 8%. Among smart speaker owners, the rate jumps to 15%.