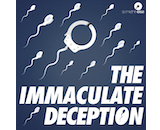 Sony Music Entertainment made a big push for podcasting deals at the start of this year, and several are already launching new titles. The first show to come out of Sony's partnership with Somethin' Else is titled The Immaculate Deception.
The nine-part podcast has journalist Jenny Kleeman revisiting the case of Dutch fertility doctor Jan Karbaat, who inseminated patients without their knowledge with his own sperm in the 80s. Kleeman's investigations revealed ten other cases of doctors conducting similar unethical activities. The first weekly episode aired on March 18 and is available on Apple, Spotify, and other podcast platforms.
Sony and Somethin' Else entered their content development partnership in February. "Our new partnership will support Somethin' Else's continued creative success and expand the reach of its shows to a truly global audience," Dennis Kooker, Sony Music's president of global digital business and U.S. sales, said at the time of the deal.