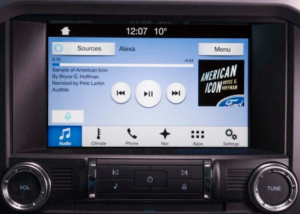 Ford has announced that it will start integrating Amazon's voice-activated Alexa system in its cars this month. Alexa is the virtual assistant popularized in Amazon's Echo and Dot devices, whose audio capability was reviewed by RAIN News here.
It appears that Ford is placing bets everywhere. As we reported last week, the car company is partnering with Toyota in a collective to develop an open-standard altenrative to Android Auto and Apple CarPlay. At the same time, the compaany does offer those digital dashboard systems. Ford also continues development of its long-standing proprietary SYNC (now SYNC 3) system.
The alliance with Amazon Alexa gives both companies a first-mover advantage. Alexa gives Ford the cachet of first automaker to bundle the buzzy digital technology, and Ford gives Amazon its first headline car deal.
The main emphasis for now is on connecting the car with the home. For example, users can command Alexa to start the car from within the home, using an Echo or Dot. Conversely, drivers can use Ford's onboard Alexa to open the garage door as they head home, and turn on the porch lights.
But audio is built into Alexa's intelligence, and this deal is a clear call to audio producers and distributors — from radio to music services to webcasters to podcasters to audio advertisers — that the car is rapidly changing.
As we mentioned in our late-2016 review, traditional radio enjoys the best implementation in Alexa's set of audio "skills," so radio could be the early winner if Alexa swarms into cars as Amazon no doubt wants it to. As button-and-knob radios disappear from the dashboard, and terrestrial radio as a whole is reduced to one app among many, Alexa's ability to instantly play any station by call letters can sweep away the confusion many new-car buyers have trying to figure out how to turn on the radio. Potentially, it is radio's biggest problem, solved.
It's worth noting that Alexa plays the station stream, currently provided by TuneIn, not the air signal. So it's a win for TuneIn also.
Alexa in the car is not good news for all audio outlets. There is a rich-get-richer aspect of Alexa's music intelligence, as the platform is connected to very few services — Pandora, iHeartRadio, Spotify, TuneIn, and of course Amazon Music. People whose listening is settled in Napster, Deezer, 8tracks, Google Play, Apple Music, or dozens of others don't get much joy from Alexa. Those services don't, either.
Voice control backed by keen artificial intelligence and ubiquitous connection to platforms is needed to make in-car audio truly frictionless (and safe). In the meantime, the Ford/Amazon alliance is a pointer to the future of voice-controlled car infotainment.