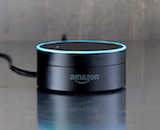 Alexa moved into my house on Christmas day, as she did in many others. Amazon announced that the Echo Dot, one of the company's voice-enabled speaker line, was the most popular product in what Amazon calls its best holiday selling season ever.
Alexa is a nice lady. Polite, even when she cannot answer a question and must be aggravated, beneath her artificial veneer, by the many, many questions and demands that she cannot fulfill.
When it comes to music, news, and podcast listening, Alexa is far less equipped that the adoring buzz about her implies. But the promise is that she will get smarter over time, as new skills are learned. One hour of banging away at this device is enough to develop a long wish list.
Still, Alexa and her competitors from Google and Apple point toward a consumer heaven in which every spoken desire for audio programming is instantly fulfilled. Put Alexa in every car right now, even with her inadequacies, and it would change the game for radio stations, music services, and podcasters.
Alexa's Audio Repertoire
Alexa's intelligence is based on skills, which are distinct abilities related to connected services and some degree of language understanding. So, she understands what podcasts are, and recognizes radio station call letters.
Alexa's music service skills are extremely limited, featuring only five platforms: Amazon Music, Spotify, Pandora, iHeartRadio, and TuneIn. TuneIn is the default player for radio stations. Amazon is the default music service, but you can change the priority in the Alexa mobile app, which you must download to set up the device.
Users who have accounts on all five platforms can specify where they want to hear something. So, for example, you can ask Alexa to "Play smooth jazz" on any one of them, and get that platform's auto-curated stream of smooth jazz.
Alexa plays news on request, but she is most somewhat limited in this department. NPR is the default and only provider. You get a brief "Flash Briefing," to which you can add Technology and Business briefings from NPR, except the Technology briefing doesn't work. You cannot enable any other provider, and cannot request news by keyword, e.g. "Play news about Donald Trump," or "Give me world news." It all defaults to the Flash Briefing.
Although you have to dig deep in the app, additional news providers are available in the Skills section. (Thanks to a RAIN News reader for pointing that out.) Enabling those alternate skills, which get bundled into the Flash Briefing, and can be ordered however you like, makes Alexa's news delivery more interesting than I stated in the original draft of this review.
Radio Is a Big Winner
Radio stations are the big winners at this pre-pubescent stage of Alexa's development. "Alexa, play WRDU" snaps the North Carolina station right on, as does "Alexa, play WUNC." If you're traveling with Alexa, and want a public radio fix, "Play the local NPR stations" works. "Play Z100" works.
I told Alexa, "Play NASH Radio." She sweetly inquired, "Shall I add gnashing of teeth to Pandora Radio?"
So, stick with call letters. Back to the connected car scenario — as the knobby radio disappears from American cars, and terrestrial radio is reduced to an app on a dashboard screen, Alexa has the potential to solve radio's in-car threat. Smart voice control is exactly what drivers need to hear what they want, when they want it, without fussing dangerously with the dashboard or tethered phone.
In my testing of Alexa's audio capability, radio is the shining success story.
Podcasts SHOULD Be So Good on Alexa
But, sadness.
Alexa did not fail me when I called up any podcast title I could think of. Any podcast in TuneIn is available, and Alexa is good at recognizing program titles.
But one problem is her inability to go backward from the most recent episode. I tried many phrasings of the request, including episode numbers. So, "Play WTF with Marc Maron episode number 751" baffled her. Browsing within a program feed is out of the question, even if only to step backward one show. My wife wanted Alexa to play Diane Rehm's final show and Alexa couldn't, because producing station WAMU had aired (and podcasted) a couple of reruns in the meantime.
(Interestingly, ad-tech company XAPPmedia, which specializes in voice control, is working on solving the back-episode problem with a new Alexa skill.)
Alexa cannot skip forward and backward in 15- or 30-second imcrements, a common feature in podcast apps.
A more complex task would be to offer podcasts by general description. I tried "Alexa, find a podcast about American history." She complained that my Audible book library was empty. (Audible is wholly owned by Amazon.) When I asked her to "play" a podcast on any subject, she floundered desperately and sometimes hilariously. Browsing for podcasts is a more sophisticated technology request than backing up through past episodes of one program, so this skill falls onto my secondary wish-list.
But in the long run, Alexa must get much better at understanding how podcasts are presented and consumed. Whichever podcast app ties the first knot with Amazon as a default podcast player will enjoy an important first-mover advantage.
Music
With music services, Alexa's challenge is to match the on-demand features of the service. So, working with Pandora's online radio service is more straightforward than working with Spotify's full-featured music library and playlist system. "Play my Bruno Mars station on Pandora" works fine (if you made a Bruno Mars station).
In subscription accounts to Spotify Premium and iHeartRadio All Access, Alexa was disturbingly unskilled.
She can find named playlists, and shuffle-play any artist or band you want in Spotify. She could not find my saved songs in iHeartRadio All Access, which has perhaps not educated Alexa to its newly launched features.
In Spotify, which is the service skill which relates to the greatest number of on-demand subscribers, Alexa cannot create a new playlist, or move a playing song into an existing playlist. Worst of all in my experience is that she doesn't recognize the Songs collection — that's what Spotify calls the collection of tracks that a subscriber can easily build with one touch, without adding to a named playlist. It's a big bucket of favored music. Alexa's blindness to that collection is a crucial failure that people complain about, and seek a solution for, in online forums.
Irresistible, when All Is Said and Done
For all her shortcomings, Alexa is a compelling addition to a household. My wife, who has never listened to a podcast, never time-shifted her favorite radio programs, and never looked at a music service, Alexa is an instant hit. This device might instantly move her to a level of digital fluency that living with hasn't achieved.
The key? Ease. Convenience. Speech. Nothing for the user to learn. It's up to Alexa to learn. And even now, at her grade-school level with audio, Alexa has the power to change lifestyles.