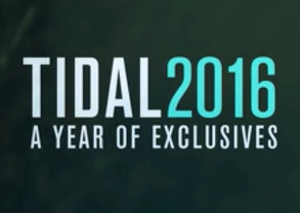 Tidal has published a year-end video that promotes the exclusive-release strategy the music service followed in 2016. While exclusive album releases have gotten the most attention (and there have been 32 of them this year), Tidal touted exclusives in other categories:
39 livestreams
45 music videos
90 behind-the-scenes videos
over 100 events
180,00 ticket giveaways
All in all, it's a strategy that seeks to build unique relationships of artists and fans.
As noted in Billboard, Tidal has not disclosed subscriber numbers since March, when it boasted 3-million users of the subscription-only music service. The platform is priced a $10/month for on-demand access to music, and $20/month for the same access to high-resolution listening. Accompanying the video are editor-selected year-end lists of "favorite" albums, songs, and videos in a few different music categories. See it all here.