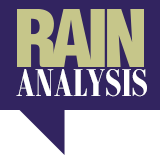 Last week's drop of Google's All Access music subscription app into Apple's app store was a milestone moment in both the music-service wars and the larger tech-ecosystem land grab. We had fun with our "Google invades Apple" headline, and every media site covering the convergence of music and Internet hit the same note.
The invasion metaphor is apt, more than just for its imagery of two tech/media giants engaged in business warfare. Google's Play Music All Access, awkwardly-named thought it might be, offers a more complete music platform than Apple does — and likewise for Spotify, Rhapsody, Pandora, and Rdio. The competitive thrust is more feature-specific than merely inserting the Google brand into the music choices of iPhone and iPod users. Its features connect with the three major ways that people connect with Internet-delivered music as a 21st-century type of radio.
Three Types of Listening
There are three types of app listening. By "app listening" we mean listening that happens through a desktop program, a web browser, or a mobile app. There are three cornerstones of app listening:
Radio: Broadcasters understandably bristle at the re-definition of "radio," which used to denote a technology, not a behavior. Now, "radio" commonly means lean-back app listening that simulates the traditional passive radio experience. Pandora is the poster child for "Internet radio," but Pandora is more interactive than thousands of Internet pureplay stations which don't offer any customization.
Jukebox: The "celestial jukebox" is lean-forward listening in which access to music replaces ownership of music. Spotify, Rhapsody, and Radio are leading examples of app services that provide access to huge song catalogs on demand, with suites of features that personalize the jukebox around the user's taste.
Cloud storage: Even with the rise of Internet radio and the celestial jukebox, people own personal music collections in digital file formats. Amazon, Apple, and others provide apps that allow uploading those files to the cloud, from which they can be accessed from any connected device.
Integrating these three modes of listening is not easy, or common. How do personal collections (the ownership model) fit into subscription services (the access model), and how do those users integrate the existing value of their collections with the new value of music access?
It's Called "All Access" for a Reason
That is the key issue addressed by Google Play Music All Access, and a key selling point of its subscription service. All Access provides the usual access features — jukeboxing, playlisting, favoriting, downloading for offline listening. At the same time, All Access (living up to its name) is a cloud storage service which invites users to upload 20,000 tracks. Those collections are integrated into the jukebox service, and intelligence derived from scanning the owned music helps personalize the music Google suggests to the user.
Apple has a cloud service, too, and of course iTunes is the world's biggest music store, still a champion of the ownership model, widely predicted to be waning. The two-month-old iTunes Radio service provides lean-back radio-style listening, a second rung of the app-listening ladder. But Apple does not have a celestial jukebox function for random access and full listening of songs and albums.
That missing piece is the opening through which Google has driven its All Access platform, and why the invasion is meaningful. Google provides both models — access to an owned collection on the same platform which accesses the celestial jukebox, and plays radio-style streams.
Google craftily makes it easy to convert an iTunes collection to Google's cloud. Doing so gives Apple users a full, three-point app-listening experience on iPhones and iPods. Google provides the purchasing dimension too, through Google Play song-buying, which emulates the synergy of Apple's iTunes Radio and iTunes Store linkage.
It's not only iTunes that could be hurt by Google. Spotify, Rdio, and Rhapsody lack cloud integration of personal collections. Google sits in the iOS store as the complete problem-solver — in that light, the awkward "All Access" name is justified. The extra value it brings signifies why Google invaded Apple. Time will tell how disruptive the invasion will be.