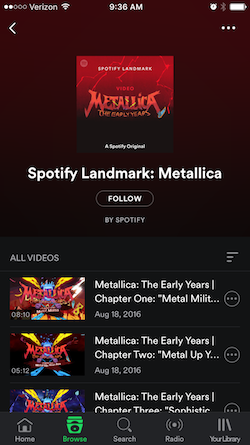 Spotify is going full-steam ahead with its new video content, launching a documentary about Metallica. The four-part series is called Landmark – Metallica: The Early Years and the first episode is available today. The documentary contains exclusive band interviews and archival footage, and also has companion playlists. The Landmark videos and playlists are available in Spotify's mobile app in the U.S., UK, Sweden, and Germany.
"We are developing original content that is rooted in music, pop culture, and animation that is driven by the passion and sense of humor of our audience," said Tom Calderone, global head of content for Spotify.
Spotify recently debuted its first original video, a series of animated music history lessons called Deconstructed. The premiere episode presented some background on EDM. The streaming music platform has also added podcasts and other audio content to its core music offerings.
Video is shaping up to be a new frontier for streaming music services, especially as the top dogs build out additional features and look to act as broader entertainment hubs. Apple Music is pushing hard into that space as well. Not only has it helped fund music video creation, but it recently acquired the rights to a spinoff of Carpool Karaoke, a popular bit from The Late Late Show with James Corden. Pandora has also been live streaming concerts (also by Metallica, interestingly enough) and also secured the exclusive streaming for the second season of popular podcast Serial. And of course, YouTube still acts as the standard-bearer for multimedia entertainment with its existing videos and new Red subscription option.