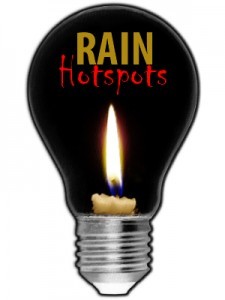 This was an eventful week, and RAIN News readers told us, through their article choices, what the most important topics were.
Pandora had a huge week, double-dipping in positive company news, winning the greatest "Share of Eye" for the week. First, a legal victory in a royalty rate-setting case brought by ASCAP. The first verdict, delivered in Pandora's favor last summer, was appealed by ASCAP, with the same decisive result. Pandora will not pay an elevated royalty rate to ASCAP retroactively for the 2011-2015 period.
Second, the FCC's long-expected waiver of regulatory requirements cleared the way for Pandora to complete its purchase of a Colorado FM station. If that happens (as expected), and if Pandora applies to government regulators to pay lower royalties to ASCAP and BMI (likewise expected), it could lower costs for the Internet radio company, saving it millions.
Readers also joined our sadness in observing the passing of David Goldberg, an Internet radio pioneer and serial entrepreneur who died at age 47. RAIN had a longstanding friendship with Goldberg who spoke at RAIN Summit Vegas in 2005, where he delivered an amazingly prescient keynote address.
The "freemium debate" took a new turn as we reported rumors that Apple was being monitored by the Department of Justice for reportedly attempting to partner with music labels in their negotiations with Spotify, which, if true, could lead to antitrust problems. Apple reportedly wants the labels to end Spotify Free, the ad-supported listening service.
Finally, two items of technical news about podcasting attracted reader eyeballs. First, SoundCloud unleashed its beta podcast hosting program, with aggressive pricing that undercuts competitors. Second, WideOrbit announced that on-demand audio platform audioBoom will use WideOrbit's technology to inject ads into podcasts (at the creator's discretion). Both news items mark the continuing evolution of opportunity for independent podcast producers.