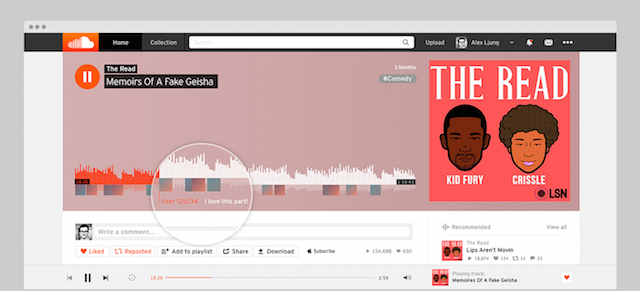 SoundCloud has taken its podcasting service out of beta and made it live for all users. The new podcast hosting additions include RSS feed distribution, embeddable podcast players, integration with social networks, and timed comments. Several well-established podcast companies joined the SoundCloud network during the beta, including the Loud Speakers Network, Gimlet Media, and Midroll Media/Earwolf.
SoundCloud will eventually roll its advertising program fully into the podcasting segment of its service, as it also intends to do with music content. In beta now, the ad program is invite-only for creators — Loud Speakers is one participant. SoundCloud is lagging behind audioBoom in this regard — yesterday audioBoom announced WideOrbit-powered ad-injection for all hosted podcasts.
Soundcloud is now competing with Libsyn, audioBoom, and other content hosting companies which facilitate creating a home base from which programs can be included in directories like iTunes, Stitcher, and of course the hosting companies themselves. Soundcloud is pricing aggressively, with its unlimited plan ($135/year) undercutting Libsyn's rate sheet. SoundCloud also offers a free plan for three hours of audio content to get started.