In what Pandora calls a "redesign," the company has announced a company reorganization that includes layoffs, a remapping of its key initiatives, and prioritization of its Atlanta office for growth even as its official HQ remains in Oakland.
The press release is attached to a filing with the SEC which offers additional details. The staff reduction will affect 5% of Pandora's workforce. At the same time, the company plans to hire for its new initiatives in the less expensive, talent-rich Atlanta market.
Affected employees were informed today (Wednesday). The Pandora board approved the plan on January 11, almost exactly a year after the company's last layoff round (January 12, 2017) which cut 7% of the workforce.
The company "redesign" is not detailed except to say that the org chart will be flatter and will streamline operations. That sometimes means the severance packages are directed at middle managers (Directors, VPs) to collapse team hierarchies and simplify decision-making and project management. (This is a generalized speculation; RAIN has no inside information and Pandora declined an interview request.) "Smarter, faster execution" is the laudable goal.
Ad tech and audience development are key focal points going forward, according to the announcement — interesting points, both. On the ad tech side, we wonder whether Pandora will create the programmatic audio platform it has long said would eventually be a feature for advertisers. Pandora's altitude when facing questions about that from investors (and RAIN Summit attendees) has generally been some version of "when the time is right," with a hint of "we have high standards and we want it to be great."
Audience development is understandably important, as Pandora's audience has, in a general way, plateaued as illustrated below in a trendline showing "average active sessions" per month as measured by Triton Digital:
---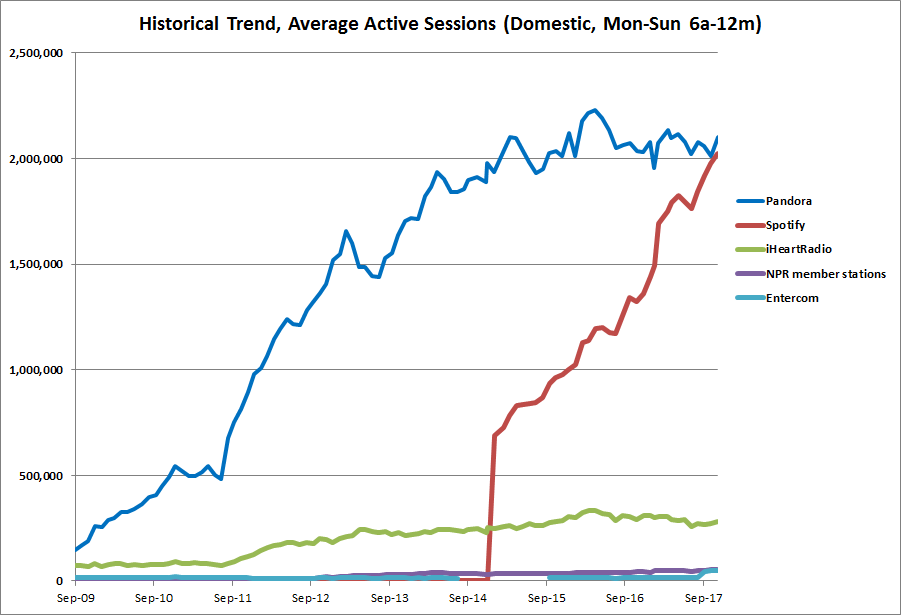 ---
At the same time, Pandora is the top multi-platform brand in time spent listening, according to comScore. "Pandora is the largest music streaming service in the U.S. People spend more time on Pandora than any other digital platform in the country, and as our dynamic industry evolves, we must also evolve," said CEO Roger Lynch.
This is the first difficult announcement for Lynch, who took over the CEO office from interim CEO Naveen Chopra (who succeeded Founder/CEO Tim Westergren) last August. Westergren was ushered out by a revamped board of directors that included execs from Sirius XM, which had bought 19% of Pandora for $480-million in June. All this just months after the company launched its Pandora Premium on-demand music platform, a major heavy lift of Westergren's since Pandora acquired the bankrupt remnants of Rdio in November, 2015.
Pandora has offices in Oakland (HQ), Atlanta (the new focus for growth), Boulder, Chicago, and New York. In addition, the company operates digital audio ad sales offices in dozens of radio markets around the U.S.
"Atlanta is a city with a rich history in music and a large pool of diverse tech talent that we can tap into as we scale," observed Lynch. "While we are committed to having Oakland remain our headquarters, we're excited to build on the great foundation of our awesome team there and expand our presence in Atlanta over time."
"These changes allow us to act faster, invest for growth and extend our leadership as the audio market hits what we believe will soon be a major inflection point," Lynch said.