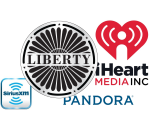 The rumor mill turns once more. After a back-and-forth earlier this year that eventually came to naught, Liberty Media CEO Greg Maffei said in the company's Q1 earnings call that the company is still potentially interested in acquiring iHeartMedia. "iHeart is an attractive free-cash flow generator," he said. "At the right price, I think it would be additive to our music holdings."
In February, Liberty Media offered a term sheet to iHeartMedia, an acquisition that would have been a last-minute way to meet its deadline to restructure its debt load and avoid bankruptcy. Rather than take the deal, iHeartMedia opted to file for Chapter 11 bankruptcy in March, a move that cut the company's $20 billion debt load in half. "The agreement we announced today is a significant accomplishment, as it allows us to definitively address the more than $20 billion in debt that has burdened our capital structure," CEO Bob Pittman said at the time.
Liberty Media is the parent company of satellite radio company Sirius XM and under Maffei's guidance, Sirius XM also invested $480 million in Pandora. Maffei spoke to Variety about his strategies in acquisitions. When asked if he had a vision for music properties, including possibly iHeartMedia, he positioned the services as able to stand solo.
"Each of these businesses has attractive qualities," he said. "There could be some synergies around the cost side or around technologies or around interaction between free and pay. I think all float on their own bottom and do well. But we may find ways to have them work together."