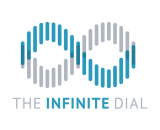 The Infinite Dial 2018 presented fascinating insights on the state of audio in the United States. If that report's glowing outlook for podcasts and smart speakers, plus its dapperly-attired hosts, have you ready for more data, you're in luck. The inaugural Infinite Dial Canada webinar is just a week away.
As announced earlier this year, Edison Research and Triton Digital will turn their analytical eyes to the great white north on Wednesday, April 4, at 2 pm Eastern. You can register for the webinar now. If you can't make the webinar, RAIN News will publish recaps of key takeaways and statistics after the live presentation.
This isn't the first time the Infinite Dial has gone international. Last year, the report offered a look at the audio industry in Australia.