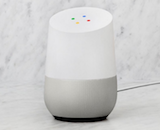 Voice-activated smart home speaker Google Home has started experimenting with what may or may not be an ad format. Owners of the device started hearing unprompted promotions for Disney's upcoming live action version of Beauty and the Beast. The 17-second ad about the movie's release date ran after users engaged with the My Day feature, which includes daily info such as schedule and weather. The spot also ran on some smartphones with the same Google Assistant program that powers the speakers.
However, Google told The Verge that the Beauty and the Beast mention wasn't intended as an advertisement. "What's circulating online was a part of our My Day feature, where after providing helpful information about your day, we sometimes call out timely content," the company's statement said. "We're continuing to experiment with new ways to surface unique content for users and we could have done better in this case."
Whether or not this was a paid ad, as this device segment begins to gain more traction, it seems likely that the manufacturers may seek monetization options that would create additional value beyond the initial purchase. What's even less certain is the form that might take. The listener reaction to the Google Home spot was generally negative, sounding clunky and jarring to users. However, there's still room in this new space for advertisers and the device makers to adjust both the placement and delivery of advertising.