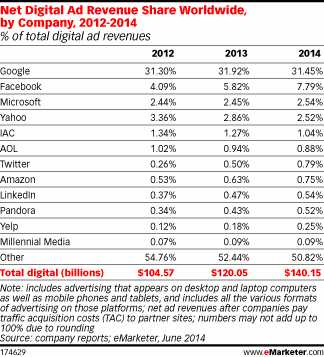 eMarketer released its projections for the global digital ad space this year. Yahoo has held the top global ad selling spot, but this year is poised to lose its position to Microsoft. Google is anticipated to be the top recipient of digital ad dollars, but its market share is expected to decline this year. eMarketer suggested that lack of growth is due to having a more mature ad business than the other top brands.
According to the data, Pandora is projected to gain overall digital ad share, but it's still going to hold less than 1 percent of the market. For the digital space, Pandora is expected to increase from 0.34 share in 2012 to hit 0.52 percent this year. While small growth is expected overall, Pandora is likely to lose ground in mobile ad share. The streaming radio service held a 2.6 percent market share for mobile in 2012, but that's projected to drop to 1.6 percent this year. Social media networks are making the big gains in the mobile space. Twitter's market share rose from 1.5 percent in 2012 to an expected 2.8 percent in 2014, while Facebook's slice of the mobile pie is slated to skyrocket from 5.4 percent in 2012 to 22.3 percent in 2014.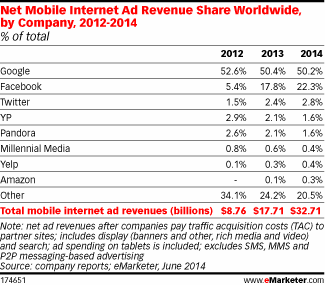 This isn't the first time we've seen signs that mobile is where the money is going. Earlier eMarketer research found that in the U.S., total media ad spending on mobile is expected to overtake the traditional channels of radio, newspapers, and magazines. The shift to mobile could be a good thing for streaming radio since research by comScore and Millennial Media showed that it is largely a mobile-centric activity. These music services will need to deliver a quality experience on smartphones and tablets to continue to hook listeners and prove that they are worthy of those much-needed advertising dollars.