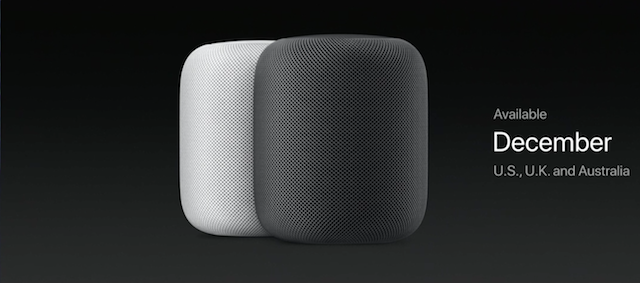 This year's WWDC announced Apple's foray into WiFi speakers, bringing it into direct competition once again with Google and Amazon for control over music and audio in your home. The new device is called HomePod, and it will retail for $349. The initial launch is this December for the U.S., the UK, and Australia, with a broader global rollout next year.
HomePod is designed to coordinate with Apple Music. It ties in to the owner's specific library of playlists and preferences. It works with Siri to offer what the Apple exec dubbed a "musicologist", and the voice controls are meant to accomplish both direct and indirect commands around what you might want to hear and what you'd want to know about your music. HomePod can respond with information about the liner notes or play a particular track or artist from the Apple Music catalog.
On the technology side, the debut of HomePod focused on audio quality, highlighting the device's ability to manage the listening experience in different rooms and settings. One device can fill a living room, or two can work together for even more power. It also links up with other information such as news or sports, set reminders, or send Messages. It also works in conjunction with HomeKit devices for management of other smart technology.
Although this WiFi speaker segment is still a very new addition to the tech space, it has been seeing a strong uptake so far. The latest Infinite Dial data and an even more recent survey by audioBoom and Edison showed that they are already on listeners' radar. About 20 million Americans currently own a device in this niche.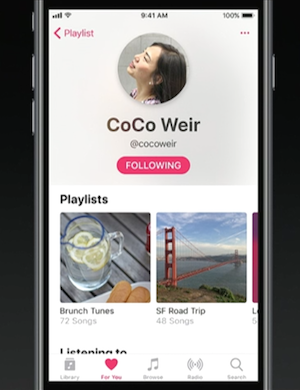 The keynote event did include a few notes around Apple Music. The company announced 27 million paid subscribers to the streaming music service. It also took another stab at adding a social layer to the platform. In the iOS 11 update to Apple Music, users will be able to develop profiles that show what they're listening to and share the tunes they're enjoying with their friends. The presentation didn't specify how those connections will be made, such as whether any contact in a phone would be automatically added.
Apple Music is also getting spruced up on the Apple Watch. The new developments are designed to sync the wearable with the Apple Airpods, the wireless headphones-meet-earbuds that caused a big stir at the company's keynote event in September. The Watch version now has automatically updated playlists and supports multiple playlists.