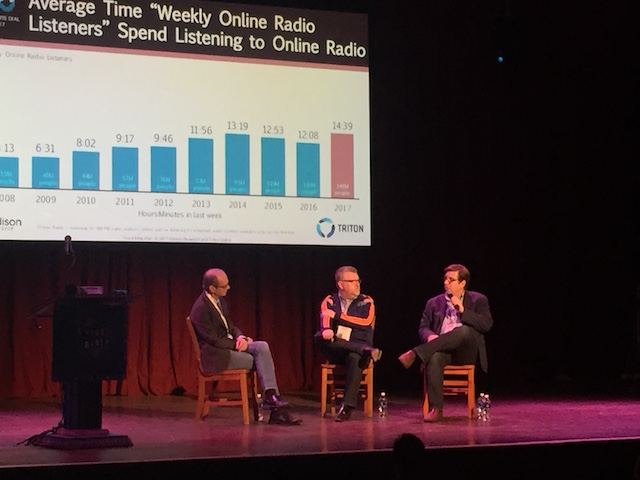 The always entertaining duo of Tom Webster, vice president of Edison Research, and John Rosso, president of market development for Triton Digital, teamed up onstage at the RAIN Digital Audio Advertising Summit for a conversation about the highly influential Infinite Dial study. RAIN President Brad Hill guided the discussion.
Both Webster and Rosso were bullish about the prospects for smart speakers. "I was surprised how high this was so soon after launch," Rosso said. Webster agreed: "It's almost 20 million Americans with a product that just came out." He predicted that the rapid uptake of these in-home devices will create a new importance on brands and brand recognition. "It makes brands so important…you have to say it by name," Webster said. When asked if the smart speakers could be a replacement for radio sets, he also answered in the affirmative.
"I would submit that music discovery needs some fixin'," Webster said of the streaming music sector. He referenced how each track from Ed Sheeran's new album made it onto the singles chart at launch and saw one album by rapper Future replace another work of his own at Billboard #1.
Their discussion of the podcasting slides from Infinite Dial were among the most intriguing. "I think there's still a long way to go in coming up with mass appeal" TW said, drawing a comparison between how different top podcasts are from the top television shows in the Nielsen ratings. He also observed that for the average listener, podcasts might not align with their listening habits. "Most of what we listen to is music. If you try to podcast music, a lawyer will shoot you in the face," Webster quipped. Despite the room for growth in listener numbers, Rosso pointed out that the positive retention of major advertisers for podcast spots shows that there is confidence and success in this format.
Connected cars are always an intriguing data point for the Infinite Dial, and while both Webster and Rosso agreed that there are a growing number of options for drivers, it won't be lights out for terrestrial radio any time soon. In Rosso's perspective, the proliferation of Internet access in cars is all about choices. "I don't have to listen to the radio that I just get over the air," he said. "It just gets harder to find the over-the-air radio in a new car" which he said would be one of the big hurdles for terrestrial radio to overcome with the growth of connected cars. Webster also forecast that listening from the back seat would be an area of interest in the mid- to long-term thanks to the ongoing development of self-driving cars and the current popularity of ride-sharing services.