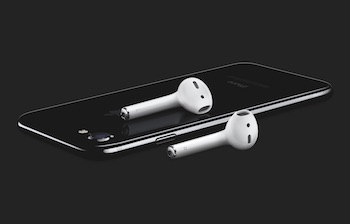 We already discussed the minor updates to Apple Music numbers emerging from Apple's recent keynote. But the real upheaval at the event was the company's choice to remove the standard headphone jack from the iPhone 7 and iPhone 7 Plus. Everyone and their mother took to the Internet with a hot take on the development, and the general impression so far is not good.
Rather than the usual 3.5mm connector, any wired headphones or earbuds would need to use the company's proprietary Lightning port. Or, as the company was not-so-subtlely encouraging, customers would turn to wireless listening, ideally on Apple's new AirPods. Each new iPhone will come with revised earbuds that use the Lightning connector, in addition to an adapter for using the traditional jack.
Apple's presenter said removing the headphone jack was an act of "courage," of the brand daring to push into the wireless frontier, where no company has successfully gone before. Admirably, he got the line out with a straight face. Yet as the collective internet cringed over the wording, Apple isn't entirely wrong to reconsider the current standard. It's just going about it in a peculiar way.
Wireless audio is a topic that hasn't gotten much love from the tech world. Wired sound is usually acknowledged as superior to wireless, so audiophiles will stick to their tethers rather than the convenience and mobility of the alternative. But if Apple truly wants to revolutionize the personal audio, serious listeners need more than a claim of "courage" to willingly shoulder the burden of helping to make those changes happen.
Because with what Apple is currently doing, the work is falling on the listeners. We need to keep track of the new hardware. We have to do the extra research to determine if/when this wireless tech will make sense in our lives. We have to buy yet another set of headphones to use exclusively with one device. And there are lots of questions we need answered to understand why it's worthwhile for us to do all that, because an intensely shiny phone isn't enough.
For instance, how good is Apple's Lightning port? The presentation claimed that it was tuned to be a superior digital audio connection, but I don't know of anyone who's had a chance to assess that statement. Is Apple working with other companies to make Lightning available on more than an iPhone? Beats headphones aren't everyone's cup of tea, so just the combined Apple/Beats clout isn't going to be enough to make a huge shift in listening preferences.
The courageous element isn't Apple's willingness to tackle the prickly subject of wireless audio. It's trusting that consumers and audiophiles will stick with the company's vision, even when it makes missteps in rolling out the products.