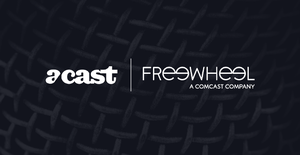 In a startling announcement, which in hindsight seems inevitable, leading media campaign planning and buying platform Strata has accepted the entire inventory of podcast company Acast. Acast's portfolio of 20,000+ podcasts will be exposed to agencies and advertisers engaged in all kinds of media marketing.
Strata, a division of FreeWheel (a comCast company), has been widely recognized and used as a central planning platform for buying and managing commercial campaigns in TV, radio, print, out-of-home, video, streaming audio, and more. Comcast told RAIN News that Acast is Strata's launch partner into podcasting. so for now, the Stockholm-based company is the only podcast marketplace inside Strata. Comcast/Strata is currently in discussion with other podcast companies.
This is landmark. Similar to when streaming audio ad inventory was first represented in Strata, placing it in the same platform as broadcast radio buying, the Acast deal puts podcasting in view and in the minds of 1,100 big-budget agency buyers executing brand campaigns in media categories far more mature, developed, and rich. In podcasting's maturation process, partly keyed to attracting large brands and unlocking their giant marketing allocations, the Acast/Strata partnership will be seen in a future rear-view mirror as breakthrough.
(For history of digital audio in Strata, see our coverage of Pandora in Strata, Triton Digital joining Strata, iHeartMedia's digital inventory going into Strata.)
This is not automated buying, according to Acast's announcement. "From launch, Strata buyers can use automated processes to purchase inventory directly from the Acast sales team, including receiving proposals and sending orders electronically." From there, Acast can pitch its dynamic ad insertion technology. This is central to Acast marketing, which is opposed to live host read sponsorship messaging: "Acast's pioneering dynamic ad insertion technology allows for timely, contextualized, and targeted podcast ads to be delivered to listeners on any app, upon download or playback of its shows — as opposed to static, non-targeted ads that are baked into the podcast audio file, and can remain even after an ad campaign has ended. The technology allows for advertisers on Strata's platform to reach specific audiences and run campaigns at scale."
Maria Tullin, associate director, digital and advanced audio, at Horizon Media, offered an endorsement of the deal: "Strata's integration with Acast makes it more efficient to purchase individual shows and collections in the same manner as other audio platforms, from RFP to invoicing. Having visibility into holistic audiences across platforms during the pre-buy evaluation phase is a positive step to increase billing growth within the podcast sector. I'm looking forward to seeing other publishers following Acast's lead, allowing for a seamless buying experience."
Acast's marketplace represents publisher partners such as A+E Networks, HuffPost, Daily Beast, CBC, Vice, BBC, Financial Times, and Complex, as well as shows from indie creators and networks. This amalgamation serves 70-million listens in the U.S. per month.
.