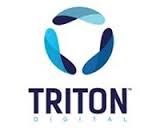 Triton Digital has added Bloomberg Media as its latest partner. In this new arrangement, Triton will manage, measure, and monetize Bloomberg's digital audio content. The media company will use Triton's Tap program for monetization and its Webcast Metrics for measuring audience. Bloomberg's inventory will also be made available on Triton's a2x programmatic ad exchange.
"Bloomberg Media's platforms serve global business leaders and our content on Bloomberg Radio reflects that," Marc Siegel, Bloomberg Media's head of U.S. advertising sales, said. "We have been aggressive in bringing our content to new markets at home and abroad. Working with a market leader with a track record like Triton Digital will enable us to better serve those audiences, as well as our advertising partners that want to reach them."
Triton has entered several deals for its audio solutions in the past months and is also collaborating on other projects for improving audio technologies. The company has inked partnerships with companies ranging from The Trade Desk to NPR to Shazam.