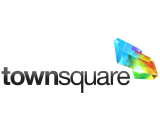 Townsquare Media's Q2 earnings call was hosted this morning by CEO Bill Wilson and EVP/CFO Stuart Rosenstein. In it, the radio group reinforced its primary identity as a "premier local and digital marketing solutions company." As in the Q1 report, Townsquare's digital initiatives led the company's business.
"We are on track to have a breakout 2019." –Bill Wilson, CEO Townsquare Media
The main bullet points which are driving TSQ stock upwards over 10% today (as of this writing) are:
Net revenue increased 7.4% year-over-year
Net income (distinct from revenue) increased 554.6% (not a typo)
Advertising net revenue gained 6% year-over-year
Live Events revenue decreased 13.8%
During the call, Bill Wilson projected that Townsquare Ignite, the company's proprietary digital programmatic platform, will "approach" $50-million in revenue this year, and $100-million in three to five years. The company believes that a home-grown platform effectively competes with white-label ad-tech services of competitors.
"We have a very differentiated portfolio of advertising and marketing solutions for local clients," Wilson said, calling 2019 a transformative year for Townsquare.
Townsquare Media, one of the country's largest radio groups, owns and operates 321 radio stations in 67 markets. It's defining strategic position is the presence in small and midsize radio markets, avoiding the top 50. This offers a more attractive competitive landscape, according to the company's investor fact sheet, and reduces competition from ad-tech and digital marketing solution providers. The lower-tier markets also enjoy more economic stability, less volatility, and plenty of stabilizing institutions such as state capitals, universities, and military outposts (again according to the fact sheet). "The Heartland is as much a mindset as it is a geographical definition, and many of our brands are significant influential institutions in this landscape that can help shape trends," Townsquare says.
As announced yesterday, Bill Wilson will keynote the upcoming RAIN SummitDallas, co-located with the Radio Show, on September 24. More information HERE.