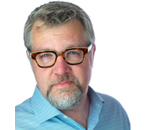 We recently reported that Edison Research SVP Tom Webster would exit the company for a new venture. Today we learn more specifics: Webster will join Sounds Profitable, the weekly newsletter about podcast ad technology from James Cridland's Podnews, created and authored by Bryan Barletta.
Webster announced some details of this move in today's edition of his I Hear Things newsletter. The new arrangement will begin on June 1. Webster's newsletter will move under the umbrella of Sounds Profitable.
"But this is about a lot more than a newsletter," Webster notes. "Bryan and I don't just want to write a newsletter. We want to make podcasting better." That ambition is anchored in a four-point agenda: Content, research (a quarterly series is planned), events, and advisory services.
.