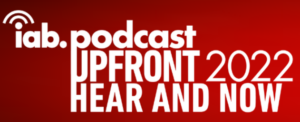 The spring IAB Podcast Upfront 2022. It's three days of podcast network presentations to an invited audience of advertisers, agency buyers, and trade press. Here's our note-taking, screenshot-snapping coverage.
Welcome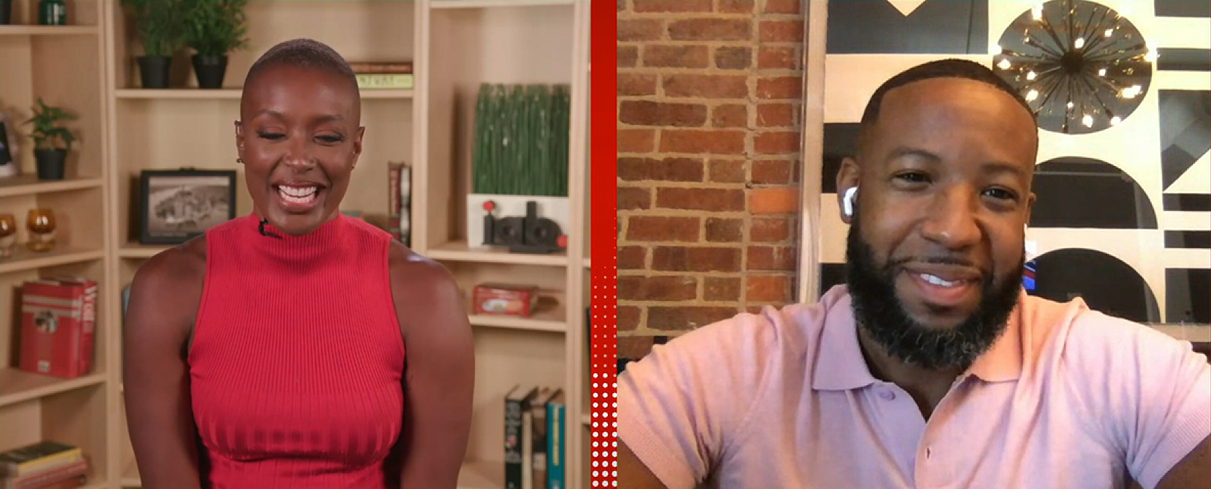 Day 1 of the Podcast Upfront 2022 was hosted by Franchesca Ramsey (Actress, Author, and Comedian) and Carlos King (Host, Reality with The King and CEO, Kingdom Reign Entertainment). Tons of mirth and two world-class smiles.
Podcast 2022 Ad Revenue and Marketplace Trends
After a cheerful introduction by the hosts, the event proper started with Eric John (Vice President, Media Center, IAB), who presented key findings from the IAB Podcast Revenue Study. (See detailed RAIN coverage HERE.) The main takeaway: $1.4B earned in 2021, projected to rise above $4B in 2025. He also spoke about ad tech, especially the rise of dynamic ad insertion (DAI), and the corresponding rise of announcer-read audio as opposed to host-read ads.
Eric John was joined by  Gina Garrubbo (President and Chief Executive Officer, National Public Media), and Diana Anderson (Senior Vice President, Group Director, National Audio and Local Digital Activation, Carat USA). He asked whether they were surprised by the industry revenue growth. Garrubbo noted that advertisers are learning how podcasting works — the tech, attribution, and basic values of the category. "All signs are pretty good," she said.
"I'm not surprised by the one-billion mark," Diana Anderson said. "But the projection is surprising."
Eric John asked Gina Garrubbo, "How do we avoid cluttering this up? What's the sweet spot?" Garrubbo noted that NPR has a limit of 30 seconds of commercial messaging per 10-12 minutes.
The Walt Disney Company
Disney-owned ABC's Brad Mielke (host of Start Here), and Pablo Torre (host of ESPN Daily) fronted this segment, delivering stats about ABC, and the larger Disney content universe. "Disney brand and storytelling are the best; that's the message we're giving here." Disney produces over 100 podcasts.

Several execs and personalities (uncredited in the press agenda) participated in this segment, evangelizing podcasts and podcast-to-film crossovers.
One announcement from this team today: All podcast content will be repped by Disney Advertising. "It's literally one-stop shopping for the entirety of our audience." The hosts stressed the ease-of-use (ease-of-buying) for advertisers.
The Disney segment ended with a quick-cut montage of TV, movie, and news clips.
NPR
Gina Garrubbo came back onto the virtual stage to MC NPR's presentation, which featured some of the network's most celebrated hosts and correspondents.
Emily Kwong (Host, Short Wave) explained that NPR has more knowledge podcasts than anyone. She introduced Peter Sagal (host, Wait, Wait…Don't Tell Me). They used this opportunity to promote a new podcast ("for people who listened to Wait Wait in their parents' car, and now might like a new show"): Everyone and Their Mom. Said Sagal: "All the young people can flock to your show … and everyone else has me."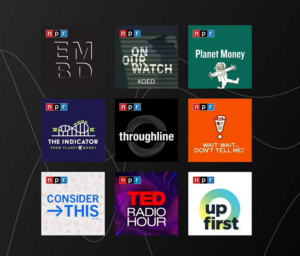 Terry Gross (Host, Fresh Air) was also honored. She came into the presentation as a guest, interviewed by Manoush Zomorodi (host, TED Radio Hour and recent guest of the RAIN Podcast Business Lunch).
Then an exhibition of network reporting strength:
Nina Totenberg, American Correspondent.
A. Martinez (host, Morning Edition and Up First).
International Correspondent Emily Feng.
Carrie Kahn, another International Correspondent.
Debbie Eillott, National Correspondent.
Showing off radio correspondents made NPR's presentation seem oriented around being an audio network, more than specifically a podcast publisher.
During all the celeb show-offing and hit-content bragging, NPR avoided hardcore marketing messages to the advertiser audience. Scott Davis (SVP, NPR Network Sponsorship and also a star of RAIN PBL) came onto the screen to tie it together, interviewing a brand advertiser: Sean Yelle (Senior Director, Dark Spirits Campari America).
WBUR
WBUR is part of NPR, and a podcast force in its own right. Ben Brock Johnson (Executive Producer, Podcasts, WBUR) hosted this segment. "In the podcast ecosystem, we've put ourselves on the map for a better part of a decade," he said.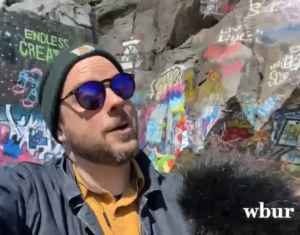 Illustrated excerpts of podcasts opened the content portion of WBUR's presentation. One new show was intro'd More than Money: The Cost of Monopolies in America. (Show page HERE.) There was also a big promo for a new WBUR production, Great Job Everyone, which appears to be somewhat interactive, directing listeners to certain episodes depending on their plot preferences.
Another new podcast is promo'd: Captured, a political history focused on the Reagan-era presidency.
And yet another: Beyond All Repair, a cold case crime show with extraordinary story points.
WBUR made an important brag: The station is/was the home of historic hit Car Talk.
TransUnion
Data and audience targeting company TransUnion offered a technical presentation with guest experts, focused on audience identification. SVP Andre Swanston hosted a discussion with guest appearances by John Rosso (CEO Triton Digital) John Morris (SVP, Streaming at AmperWave), and Jeff Brown (COO, Force Marketing).
Focusing on what Swanston called "the importance of identity resolution at massive scale," he offered a raft of statistics which validated the massiveness:
209-million Americnas have streamed audio in the last month
Over 100-million Americans own a smart speaker
60% of homes in America have more than one smart speaker
Swanston identified three types of audience ID: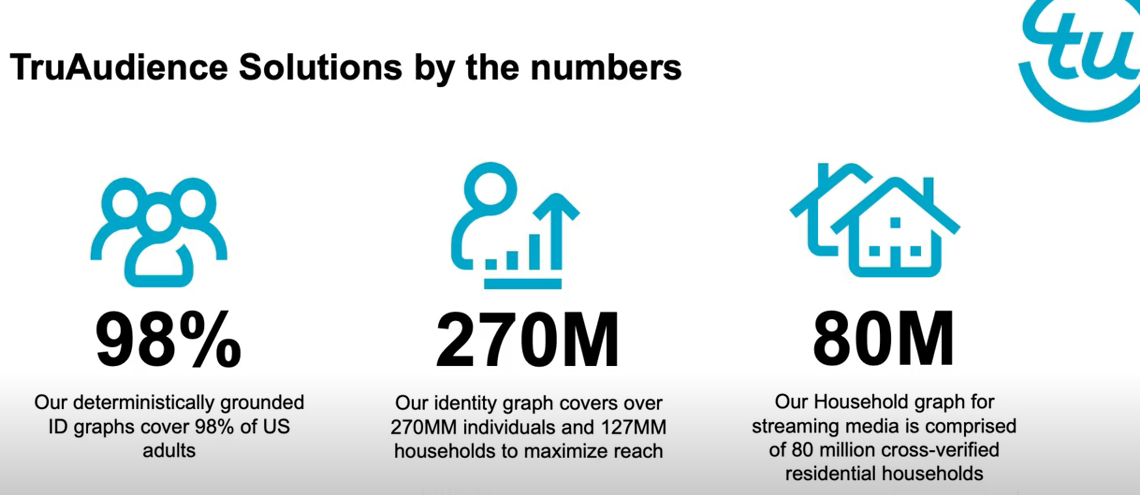 This 10-minute segment was a bit less glitzy and glamorous than the preceding sessions, and intentionally so it seemed: TransUnion wanted to present a technical understanding of audience identification specifically speaking to advertisers hungry for modern targeting.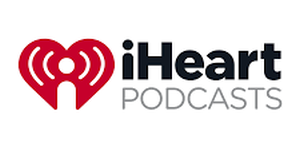 iHeartPodcasts, the top Podtrac-ranked publisher, was anchored by co-presenters Conal Byrne (CEO, iHeartMedia Digital Audio Group) and Will Pearson (COO, iHeartPodcast Network) discussing the network's orbital numbers.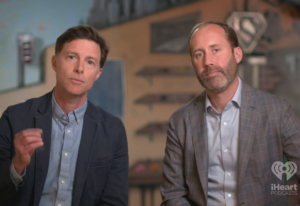 A few: 443-million downloads/streams per month. Top 50 shows spread across all of Apple's main categories. A ubiquity message: "We distribute everywhere." The two hosts claimed the lowest ad skippage rate in all of media. Here's the big one: 100-billion monthly impressions.
"Here is the long-story-short: iHeart is the only partner you need," Conal Byrne said.
When the co-presenters got to that 100-billion number, they segued to a new announcement: A new partnership with podcast analytics and measurement company Sounder to enhance brand safety."When you're buying messaging at scale, you need reassurance that those messages are being delivered in brand-safe environments."

The partnership will solidify by end of Q2.
Also looking to the near-term future, iHeart promises a "huge metaverse presence" this summer. No clues to grab hold of which would indicate what that'll look like.
A chuckle-worthy clip of outtakes finished off the program, giving us the first nominee for RAIN's "win the funny" recognition at the IAB Podcast Upfront.

SpokenLayer, a specialty audio production company pitching its service to brands, presented an unglitzy, down-to-business, persuasive evangelization of short-form audio, SpokenLayer's well defined verticals, and the value funnel with which brands and marketers can get their bearings in this not-quite-podcast field.
"There's a spoken word renaissance happening right now," declared CEO Andy Lipset. But the market is crowded, he said, with content that is overwhelmingly long-form. Driving home his point, Lipset cited Edison Research: Americans listen to four hours of audio each day. That's big, but stagnant:
"Spoken Layer is pioneering short-form audio," Lipset said. In clear positioning, the company leader put his company at the center of a short-form audio universe. Content tends to be long, he saide: 30, 40, or 60 minutes. "The average listener is not making more time in the day, despite much more volume and availability. It's all about engagement and impact. You have a better chance of someone listening to a three minute show, and its ads, than a 30-minute show."
Lipset said outright that many podcasts are too long, comparing their heft to TikTok and Twitter. Netflix recently released a show that's 10 minutes long, he said by example of a movement to short-form as a tactic that can complement long-form.
Andy Lipset and founder Will Mayo (who entered the presentation playing an upright piano) pitched the audience on brand-safe advertising opportunities through a portfolio of 50 publishers.
Veritonic
Veritonic, which brands as "The sonic truth," is best known for its sonic identity work, audio logos, and evaluating the effectiveness of audio branding. Today the conversation was about the effectiveness of podcast advertising in each part of the "full-funnel" approach to the listening customer, from awareness to purchase.
This Upfront segment was hosted by Chief Revenue Officer Korri Kolesa. She presented a graphic (below) which served as the foundation of a discussion of full-funnel campaign performance.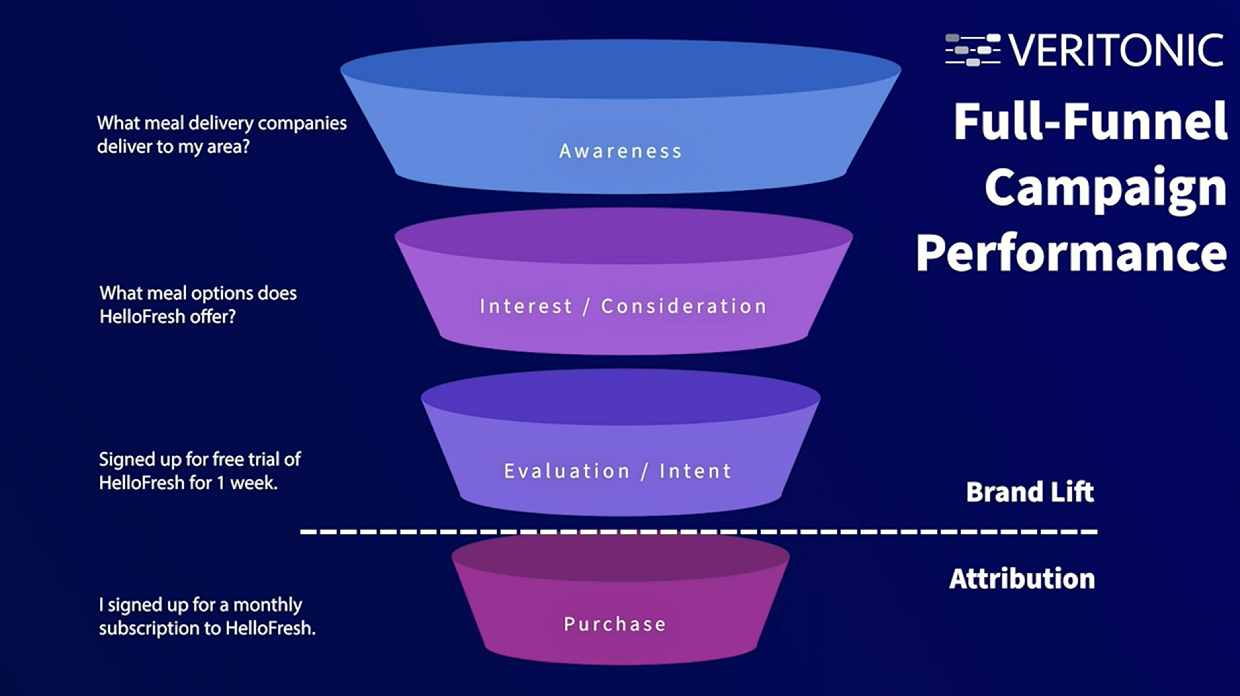 Kolesa's guest was Chris Bowlby, Head of Brand Partnerships, AdvertiseCast. She asked Bowlby about host endorsements and pre-recorded ads.
"Host endorsement is the bread and butter," Bowlby said, "but we are seeing pre-recorded and live host reads as part of the same campaign."
Korri Kolesa finished with this: "If you are measuring audio, and aren't working with us today, you should be."
Paramount
This dazzler started with a whip-quick and witty montage of Paramount shows owned by its Warner, MTV, Nickelodion, and CBS network brands. A persistent emphasis of this adrenalized presentation were podcast versions of TV shows, ranging from The Late Show with Stephan Colbert to Star Trek. Tagline: "A mountain of entertainment."
Offering what Paramount calls "The future of podcasts," the message is that the future comes from extending known properties into the audio space. A large segment was devoted to Nickelodion-based podcasts.
All this seemed to be bundled into a sort-of announcement, at the end, of Paramount Pictures Audio.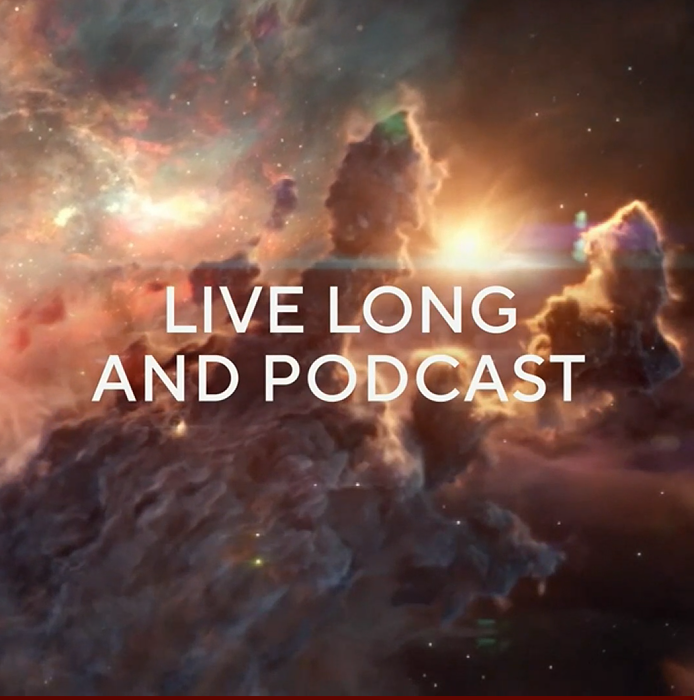 LAist
"LA is the heart and soul of the new America. A place where the idea of the future often begins."
That ethos defined this segment from the L.A.-based podcast production company. This presentation doubled down on locale, a state-specific portrait in podcasting. The network is "dedicatied to telling stories of Los Angeles, for the world."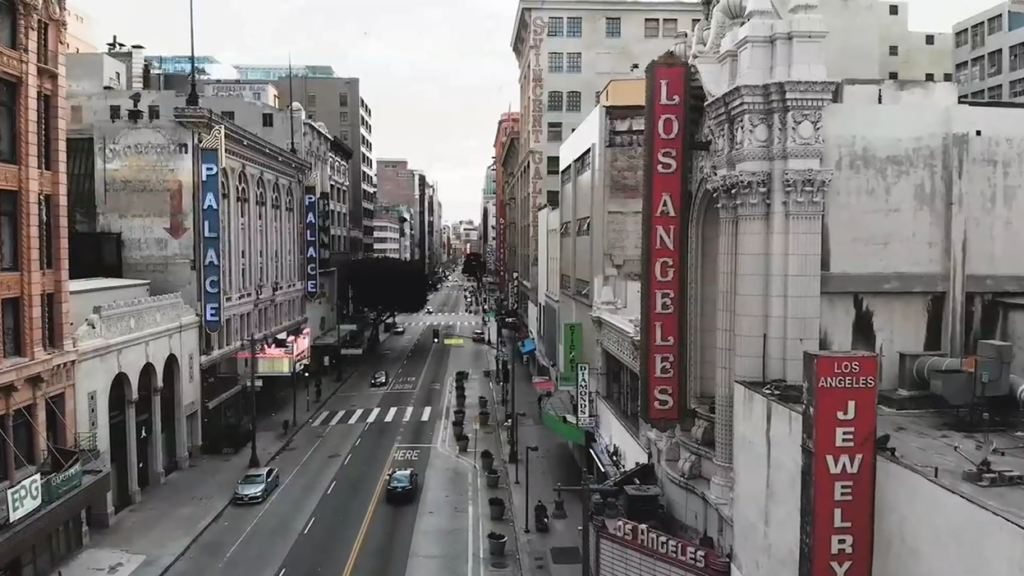 As portrayed in this presentation, LAist is dedicated to helpfulness as a defining content mandate. Shows and hosts were presented with exceptional informality and lack of glitz. A sense of steeped authenticity was conveyed.
Podcast hosts and presenters were represented in the video, but are uncredited in the Upfront speaker list. If that was an intentional omission by LAist, the anonymity and anti-stardom fit perfectly with the content ethic promoted in LAist's Upfront video.
Gumball
The Gumball mission: Connect top podcasts with best brands so podcasters can make more money.
The thematic selling point in this presentation was simplicity. For the advertisers or agency buyer. The guests told time-trap horror stories of trying to book ad campaigns on several shows, getting trapped in a mountain of emails to check multiple availabilities and prices. Gumball, we were told, eliminates a lot of back-and-forth, giving advertisers "a huge head start; an absolute game-changer." There was a promise to advertisers that "You can buy in less than two hours."
Within this message, the host-read ad was evangelized as the most powerful ad format — an opportunity that podcasting offers, that you can't get in any other medium.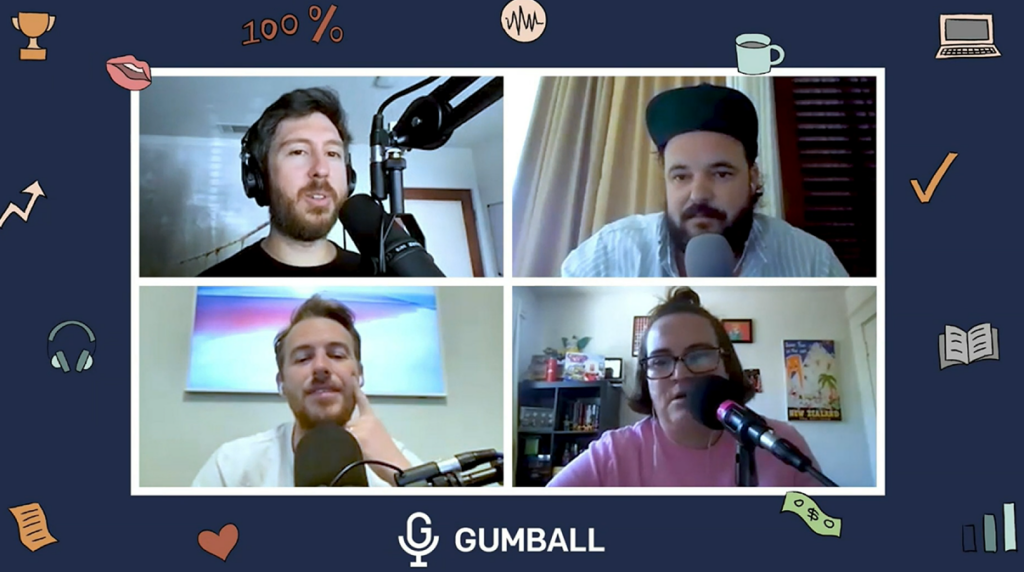 To demonstrate the power of the host-read ad, John Gabrus and Betsy Sodaro (co-hosts of Corked!)  performed live riffs of host-read ads, launching into audacious performances on behalf of brands given to them by Headgum/Gumball Chief Creative Officer Amir Blumenfeld. We don't know whether there was any prep for this; it seemed like improv. The clamorous riffing session was a highlight of the day.
APM Studios Kids & Family
Wrapping up Day 1 was an APM team of Molly Bloom (Head of Programming), Joy Dolo (Host, Forever Ago), Marc Sanchez (Sound Producer), and Sanden Tolten (Co-host, writer, producer).
Naturally, this network targets a well-defined demo. Here is the graphic they used to illustrate: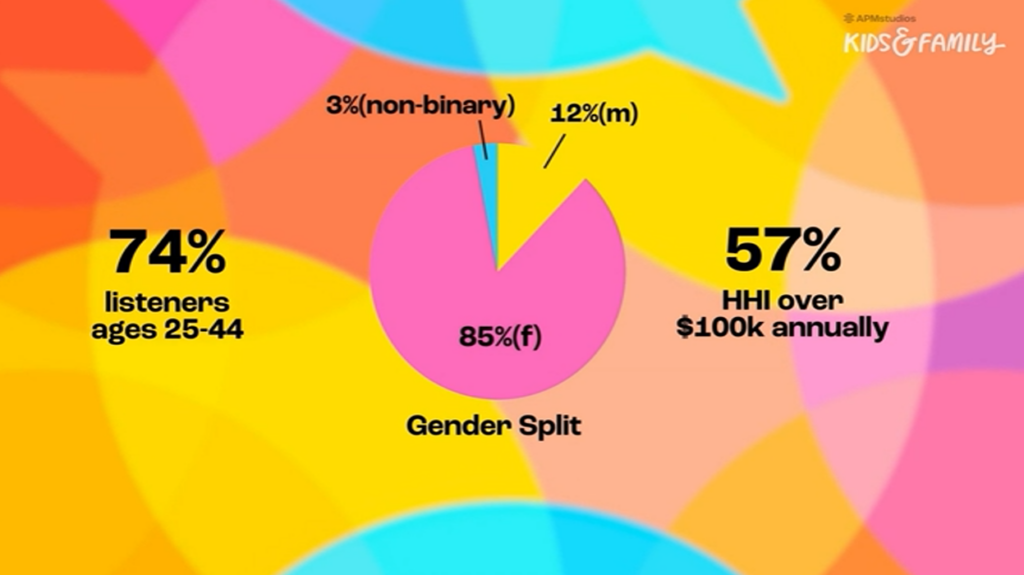 They evangelized group listening ("Co-listening is an activity"), and "consensual advertising" (they don't accept programmatic).
A few of ther best known podcasts are Brains On, Smash Boom Best,  and Julie's Library.
.