Steve Goldstein was EVP of Saga Communications for nearly three decades. He left Saga in March to start Amplifi, a new podcast company. This column was originally published on Blogstein, the Amplifi blog.
---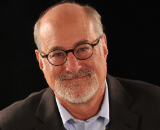 Not that many years ago when Ford CEO Mark Field first attended CES, Ford couldn't even get space at the convention center. Now seven years later, connected cars, electric cars and autonomous driving have moved the auto makers to center stage. With so much focus on electronics, some have called cars giant mobile apps. That seems about right.
This is my first CES and it is daunting navigating over 2 million square feet of convention space spread all over town and 150,000 attendees. Taxi lines are routinely 45 minutes long. But nothing has been more impactful than seeing the trail of disruption to legacy media.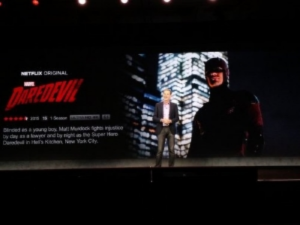 Reed Hastings, CEO of Netflix in a keynote address walked the audience through the remarkable path the company has been on. Netflix is now in over half of US homes. It took cable 20 years to reach that mark. Linear TV's model of aggregating a large audience for one show at a single time has been uprooted by the Netflix model of choice. People choose what they want to watch at a time of their choosing. Netflix has changed from a distributor of content to a creator of high quality content and along the way changed how we watch TV – think "binge watching." Netflix is a tectonic disruptive engine to broadcast and cable TV.
That's not all. Couple Netflix's disruptive path with the accelerated growth of YouTube – up 60% in the past year. Big content development companies such as Maker Studios (now owned by Disney) are snapping up key talent and creating content channels. The ad model has largely been figured out. Viewing time averages 50 minutes – a long way from cat videos. YouTube is a juggernaut and is making inroads with unique never-seen-before programming. More disruption as Hollywood goes digital.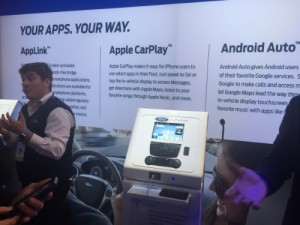 All of the auto companies are pushing connectivity. Ford, Chrysler and GM announced compatibility with Apple CarPlay and Android Auto. Not sometime in the "maybe" future, but right now with 2016 models. Radio's wide-moat in the car is being challenged in profound ways. More audio choices with a personalized experience including podcasts and streaming services will disrupt radio's status quo just as Netflix and YouTube challenge TV.
Of radio broadcasters, only iHeart is present at CES battling back with its app in the Apple CarPlay platform and others. They are also present marketing with Ryan Seacrest and handing out hats and shirts.
The big themes – Digital Hollywood and Choice and Control.