Spotify For Brands, the company's outreach division which promotes the free-listening service to advertisers, has released a new trove of data focused on brand awareness and listener profiling in the U.K. It is part of an ongoing The New Audio series, with survey work commissioned from TNS.
Key results of this report include brand awareness (90% of respondents aged 25-34 know about Spotify) and reach (Spotify is the most-used digital music service in the U.K.) The research surveyed 2,327 people in April of this year.
Previous Spotify/TNS reports measured the ways in which Spotify listening complements broadcast radio listening in 10 European markets, selected U.S. markets, and Canada. The thrust of those reports was that Spotify is good for marketers, radio is good for marketers, and that using both is better for marketers. Those studies painted pictures the two platforms complementing each other in reach and listener behavior. Those results are touched on in this latest U.K. report, but the meat is in a wealth of previously unknown details about Spotify's presence in the U.K. radio ecosystem.
Released metrics include:
Weekly reach to U.K. listeners is 16.8%, making Spotify more popular than iTunes/Apple Music.
A weekly reach of 24% in the 15-34 age group puts Spotify at #3 in radio listening behind commercial stations Heart and Capital.
A dramatic generation gap is in play when comparing streaming and broadcast audiences; streaming dominates the 16-24 group and broadcast rules the over-55 set.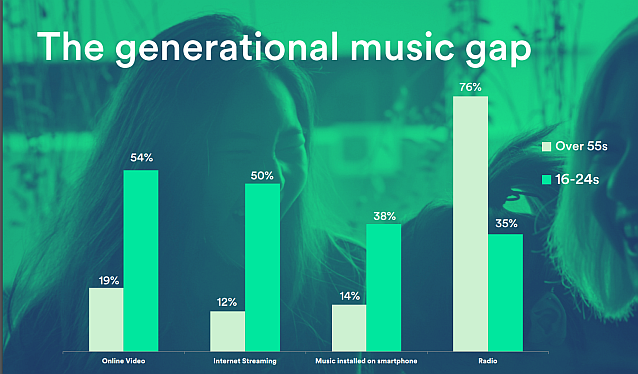 This is a much more severe generation bias than Nielsen reveals in the U.S. audience, where weekly reach is steadily high in all age groups. However, Nielsen reports do reveal a time-spent-listening (TSL) meltdown in younger groups.
A similar generation shift as shown above, broadly speaking, applies to Spotify listening vs broadcast listening. Up to age 34, Spotify has the advantage, and older listeners are weighted more to traditional radio.
Spotify users use social media more than broadcast listeners, according to the report. Social adoption is divided into four segments: Leaders, Connectors, Observers, and Functionals (from high engagement to low). Spotify ranks much higher in the Leaders category, and radio wins the Functionals group.
Similarly, but more hostile to radio, this report identifies audience segments rated  by eagerness to buy new products. Five levels here: Pioneers, Shopaholics, Selectives, Cautious, and Rejectors. Spotify hopes marketers observe these results, which show Spotify users as Pioneers, Selectives, and Shopaholics, while radio listeners cluster in the Cautious and Rejectors groups.
Finally, while asserting that "Radio is mainly consumed in the car," the research emphasizes that Spotify is used in a wider variety of daily activities like Working, studying, using the internet, relaxing, and doing chores.