This week Spotify is releasing the newest edition of its ongoing consumer survey that seeks to measure listening reach — specifically how Spotify Free compares to local AM/FM radio. Spotify Free is the radio-like, ad-supported free listening tier which complements the Spotify Premium subscription service. (GO HERE for the announcement and extended infographic.)
Unique Reach
The research, performed by Kantar-owned TNS, and following up earlier studies conducted in Europe and Canada, reveals that Spotify Free places within the top ten radio stations in weekly reach, for each of four markets studied: Los Angeles, New York, Chicago, and Dallas. More to the point, Spotify Free is shown to provide unduplicated reach which complements traditional radio. Spotify's message to advertisers and their buying agencies: use radio and Spotify Free to maximize marketing campaigns.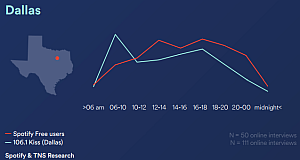 Fleshing out that thesis, this report describes a day-part profile of radio (peaking in the morning) and Spotify Free (peaking in the evening) as complementary. This was the case in all four markets, which showed a big radio listening spike during morning drive, then a slow engagement fade broken by a less dramatic gain of listeners during the evening commute. Spotify engagement is roughly inverted — a slow build peaking in the evening, then fading down to midnight.
Les Hollander, Spotify's Global Head of Audio Monetization, talked to RAIN News about the complementary aspect of this study: "Probably 20% of the 18-39 listeners you're not reaching with the frequency you need just with broadcast. Then you have those listening moments that complement each other. Radio still has predominant ownership of the [car] dashboard. But in moments like studying, working out, doing housework, etc., streaming radio really owns those moments. For an advertiser, putting together all those moments is a critical component of the buy."
Listener Attributes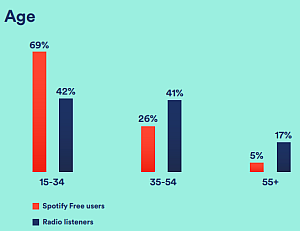 It's not only the reach attributes which are complementary, but user attributes as well. To that point, the report observes that Spotify Free wallops AM/FM in engaging the Millennial audience, defined as the 15-34 age group. Spotify captures 69 percent of that group, while radio attracts 42%. The balance gets flipped as the age lens gets older, and the report characterizes radio listeners as "radio's baby boomer audience."
Perhaps connected to the age imbalance (and perhaps not), the report identifies Spotify Free listeners as more interested in tech, travel, house & home, fashion, auto, and sports than traditional radio listeners. Those are key advertiser categories, of course.
Championing the Freemium Business Plan
The TNS work is part of a global emphasis on Spotify Free as a viable business separate from its better-known function as a funnel to Spotify Premium, where users pay for more interactive, lean-forward music library features. Last September Brian Benedik was promoted to Global Head of Advertising Sales, signalling an executive prioritization of Spotify's advertising business. While Spotify is known primarily as an interactive music service whose label partners clamor for accelerated migration of free users to paying users, the company is clearly driving a stake into the ad-supported ground. As such, Spotify competes with Pandora for radio listening, as Pandora plans to compete with Spotify for on-demand subscription membership starting next year.
"We're serious about Spotify Free as a business," Graham James, Spotify's Head of U.S. Communications told RAIN News. "We're creating something that's meaningful to Spotify in total, not only an on-ramp to Premium. Spotify Free is an experience to itself."
Further Research
Significant portions of the research work are hidden from public release. One interesting module was described to us by Les Hollander as a "digital audio competitive set." That part extends the listening comparison of the public study to a group of digital publishers: Spotify Free, Pandora (the free version), Sirius XM, Apple Music (only the free parts, e.g. iTunes Radio and Beats 1), and SoundCloud. The complete study results are available to marketers who inquire through the Spotify for Brands page. Les Hollander also told RAIN News that the U.S. study will be expanded to the top 20 markets late this year.
Spotify released the first iteration of this work, executed by research company TNS, last September. In that study, survey subjects in 10 national markets were queried about what type of radio they listen to, and when. That first foray was followed by a Canadian study released in February.