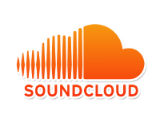 Berlin-based SoundCloud has launched two initiatives in U.K. and Ireland which bring those markets up to speed with the SoundCloud experience in the U.S. First, the SoundCloud Go subscription plan is now available to those audiences. Second, the free-listening service is now supported with advertising.
Partnering on the advertising side is DAX, the automated ad exchange owned and operated by Global, the U.K.'s biggest commercial radio group. SoundCloud will join the 140 audio publishers already putting inventory in the DAX platform. DAX will be responsible for interstitials and audio ads played alongside content from participants in SoundCloud's monetization program.
Squarespace and TuneCore are on-board as launch advertisers. Revenue-share with creators who supply content to SoundCloud is part of the business plan, as in the U.S. "The introduction of advertising forms a cornerstone of our commitment to the interest of our creator community," said Alison Moore, SoundCloud's chief revenue officer in a statement. "Each time an ad is heard in SoundCloud, an artist will get paid, and help to ensure the free offering remains available alongside the premium option."
That's an important point in SoundCloud's public relations, and, more specifically, its artist relations. There is some uneasiness in SoundCloud's creator community with new monetization schemes that might not get money flowing to creators who provide much of the content served to about 175-million listeners. For years, creators have paid SoundCloud's bills by subscribing up upload accounts for cloud storage and sharing of music tracks.
SoundCloud Go (ad-free subscriptions) will offer listeners in the U.K. and Ireland its library of more than 125 million tracks in addition to premium features such as offline listening. The service costs £9.99/€9.99 per month (or £12.99/€12.99 if purchased through the iOS app). SoundCloud Go premiered in the U.S. at the end of March.
In our ongoing tests of SoundCloud since the U.S. advertising program launched in 2014, we have never encountered an audio commercial. Accordingly, we regard the ad-supported part of SoundCloud's U.S. business plan as nascent. It's possible that DAX, which can inject ads from an existing platform, will jump-start that business in the U.K. and Irish markets.