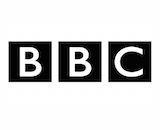 The BBC Global Audience Measure released its latest figures about the broadcaster's global reach for the 2015/2016 year. Weekly worldwide audience for the BBC hit a record high of 348 million people, up 13% from the previous year. The metric tracks the combined weekly reach of the BBC's suite of international news services, including BBC World Service, BBC World News, and several parts of the BBC Worldwide.
Television had a larger audience than radio, at 162 million and 147 million, respectively. All of the BBC platforms – TV, radio, and digital – saw growth in the past year. Digital's audience was 80 million.
"These are fantastic results which show the BBC going from strength to strength around the world and demonstrate the global appetite for accurate, impartial news," said Francesca Unsworth, director of the BBC World Service Group. "We're about to begin the biggest expansion of the World Service since the 1940s, thanks to the additional funding agreed by the UK Government last year."
The international scope of the BBC's news efforts can also be seen in the nation and language stats. While 152 million people access BBC news in English, 201 million do so in other languages. Another international tidbit: Brazil was one of the top 10 markets for international news at 8 million, an impressive performance given that it is a digital-only country for the broadcaster.
The BBC has been making strides toward improving its digital footprint, with a long-term commitment to an Internet-only future. It was also reportedly considering a merger between its radio and television units in February, but no further developments have been announced on that front.