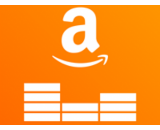 The New York Post is reporting that Amazon may have a vision for Prime Music far beyond the casual listenership it has attracted so far. The Post's Claire Atkinson cited sources who said Amazon has hosted meetings about licensing music to create an on-demand music service. She reported that Amazon is preparing for a fall launch of a standalone music service that it would cost the typical $9.99 a month, with a potential discount for bundling it with an Amazon Echo.
It is possible, likely in fact, that Amazon does have a grander plan for its music platform. The company's music leadership has been sticking to the talking point that Prime Music is not trying to reach hardcore listeners. But given Amazon's global expansion of the music features and its move to add a concert subscription, it seems that is just the status quo for today. That said, there are some logistical issues to Prime Music competing directly against Spotify or Apple Music.
Most importantly, Prime Music is just one facet in Amazon's membership program. It isn't charging $9.99 a month for access to 1 million songs; it is bundled in with the company's free shipping, streaming video, and other perks for an annual $99. So breaking out the music platform as a standalone would require Amazon to navigate converting its casual Prime listeners into paying ones on top of their existing Prime accounts. The question is whether the Amazon clout alone could drive that migration. Apple was likely banking on a similar approach, leveraging its massive iPhone base into subscribers for the Apple Music streaming platform, but its results so far are hard to read: 10 million subscribers despite selling almost 75 million phones just in 2015. That's solid growth for just six months, but could have been so much more given Apple's marketing prowess and popularity among big artists.
Apple's mixed bag doesn't mean that a similar gambit from Amazon would play out identically. Apple Music suffered from feature bloat and confusing design at its launch, which may have been an even bigger letdown due to the company's long history of elegance and simplicity. It also had the weight of being the new big launch from the same business that revolutionized digital music with iTunes. Amazon has no such pressure. It's a household name putting up boggling financial figures, but it isn't building on a legacy. With fewer expectations and all the resources, Amazon may have a better chance of disrupting the current music landscape.
In an interview with Billboard in October, Vice President of Digital Music Steve Boom hinted at another reason why Amazon may have a bigger impact. "If I'm an artist and I want to reach fans of my music, and I recognize that people like to interact with music in different ways, we're really the only place that touches all of the different formats," he said. It's the other side of that Prime membership coin. It might be challenging to convert those members to a second subscription, but those who do sign on would have access to a vast network of entertainment options.
At the very least, Prime Music is a dark horse threat to the current streaming frontrunners. Whatever it is that CEO Jeff Bezos and his lieutenants are working on, it's likely to be interesting.