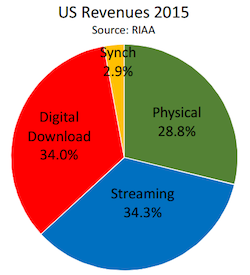 2015 was a banner year for streaming. The RIAA released its results for the past year and found that streaming was not just the biggest segment of digital revenue, but also the largest component of industry revenue, period.
Streaming secured 34.3% of all recorded music revenue in the U.S. last year, reaching $2.4 billion for the first time. In 2014, streaming held a 27% share, up from 21% in 2013.
The performance for 2015 demonstrated follow-through on the trend that has been developing since the 2014 RIAA results were published, and was again seen in the first-half figures for last year: streaming music continues its rise in both cultural and financial importance for the music industry.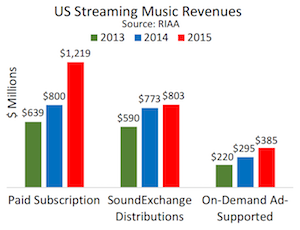 Within that powerhouse performance for streaming music, all subsets saw growth. On-demand ad-supported revenue took the smallest slice, but still increased from $295 million to $385 million. SoundExchange distributions from streaming radio sources also rose from $773 million to $803 million.
Most impressively, revenue from paid subscriptions spiked up from $800 million in 2014 to more than $1.2 billion in 2015. The RIAA found that the average number of paid streaming subscriptions in the U.S. rose 40%, from 7.7 million in 2014 to 10.8 million in 2015.
The addition of Apple Music and Tidal's subscription-focused streaming services to customers' choice of streaming platform could be boosting those numbers. Apple most recently reported having 10 million subs, and even Spotify just announced hitting 30 million paying users.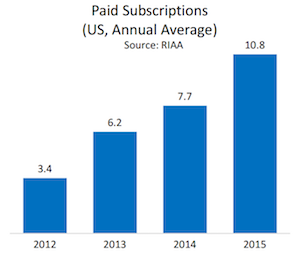 To give context for the streaming figures, overall revenue in 2015 rose 0.9% to $7 billion at estimated retail value (or 0.8% to $4.95 billion at wholesale value). All digital sources saw increased revenue, up 6% to $4.8 billion from $4.5 billion the previous year. Streaming was responsible for that growth, as digital downloads posted another year of declining revenue. In 2014, downloads generated nearly $2.58 billion, but the figure dropped to nearly $2.33 billion in 2015. Based on value, all digital sources were responsible for 70% of the overall market.
Finally, revenue from physical formats accounted for 28.8% of U.S. revenue last year. It clocked in at $2 billion, a 10% decline from 2014. The vinyl niche continued to perform well, up 32% in value to $416 million. That's the best result for record sales in the RIAA results since 1988.