The full agenda for RAIN Summit West, April 17 in Las Vegas, was released this morning on this site. CLICK HERE to see the day's schedule, speakers, attending companies, and testimonials from the 2015 conference.
New insights, fresh research, and distinct personalities bring sharpened value to this year's event. A dynamic, fast-moving schedule illuminates many dimensions of streaming audio:
Podcasting
Digital opportunities for radio
Audience measurement in a data-driven market
Music licensing realities in 2016 and beyond
Streaming startups offering fresh thinking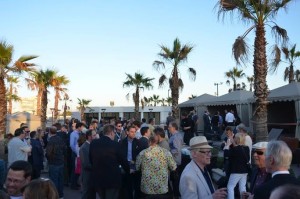 The full-day event is highlighted by keynotes from Ginny Morris and Kurt Hanson, and by "Fireside Chat" interviews with radio prodigy Zach Sang, podcast pioneer Norm Pattiz, and iHeartRadio leader Owen Grover. Larry Rosin (Edison Research), Russ Crupnick (MusicWatch), and Ruth Presslaff (Presslaff Interactive Revenue) bring fascinating original research and metrics to the podium.
RAIN Summit West is widely considered to be the leading knowledge and networking event for the intersection of radio, webcasting, all kinds of online audio, and the surrounding business ecosystem. Attendees value the carefully planned networking environment as much as the onstage content. The day is divided into four sections, with networking breaks (and lunch) between them. At day's end, the famous RAIN Cocktail Reception brings everyone together for drinks and light food on the pool deck of the Westgate Las Vegas Resort & Casino, the conference venue.
RAIN Summit West is an all-day, single-stage event where knowledge brings together relationships. It is co-located with the NAB Show, making it easy to attend both. Registration to RAIN includes a free Exhibit Hall pass at the NAB Show.
Register today — take advantage of the 40%-off one-day special price to celebrate National Chip & Dip Day. (Yes, it's real)