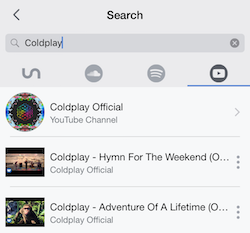 The trend of platform-agnostic streaming took some hits in recent months. But, at least on the business side, interest in that approach to listening has not disappeared just yet. The new player in that space is called Unision. It's an app for iOS or Mac that unites a listener's iTunes library with several streaming platforms.
A slick search interface is the element that sets this app apart. It has different tabs for reviewing hits from each of the different platforms available. Those are YouTube, SoundCloud, and Spotify if you choose to connect a premium account. The Unision library tab automatically includes options to download tracks from your iTunes into the app, but you can also add in tracks and files from the other sources. As with so many new apps, it also encourages social tie-ins. Users can create Circles, where they build collaborative playlists with friends.
In exploring this app, I mostly found myself thinking that this is what Apple Music should have looked like. The designers were clearly inspired by the main iTunes interface, and they've given listeners a user interface that's less cluttered and more consistent than Apple Music. Especially given how it cleanly handles the different music sources and building a library or playlists, the app's functionality is very good.
But no matter how good the design is, Unision will face the same issues as other apps in this space. CEO Sajan Sanghvi and co-founder Misha Sallee both migrated to this project from Bop.fm, one of the apps that never quite stood out enough in this niche. Not only will Unision have to attract attention, it will need to figure out a way to make money. As with so many others in the space, that path to financial success is not yet clear.