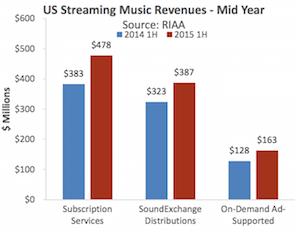 Streaming had a strong performance in the first half of 2015, according to the latest RIAA report. Paid subscriptions generated $477.9 million, an increase of 24.9% over the same period of 2014. Ad-supported streaming increased 27.1% to $162.7 million. All streaming revenue sources, including SoundExchange distributions, exceeded $1 billion for the first time in this half and secured a 33% share of the industry's total revenues.
Overall wholesale revenue rose 0.8% to $2.3 billion compared with the year-ago period, and overall retail value inched down 0.5% to $3.2 billion. While those percentage changes are small, they do still mark a contrast from the group's 2014 mid-year report, where the market's wholesale revenue dropped 2.5% as streaming growth wasn't enough to balance the losses in other sectors.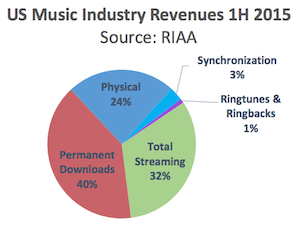 The first six months of 2015 included shaky performances across both digital downloads and physical sales. Downloaded singles declined 9.4% to $687.6 million, but downloaded albums rose 4.2% to $571.5 million. In physical units, more niche formats such as LP/EPs, vinyl singles, and audio DVDs were the only ones to post increased revenue. Revenue from CDs dropped 31.5% to $494.8 million, and CD singles declined 81.1% to just $600,000.