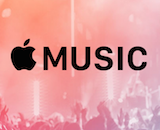 The New York Post has reported new numbers about sign-ups at Apple Music. Unnamed sources have told the site that the platform got 15 million users in its first three months. The free trial period will end on Sept. 30 for those who signed up on the first day. The Post's sources said that about half of the 15 million sign-ups have not turned off the auto-pay and thus will convert to paying customers after that date.
The Post is of course quiet about exactly where its "music industry sources" get their information. The report is curious since it gives the number of 15 million, even though Apple issued an official announcement last month that the service had 11 million trial members.
The numbers game at Apple Music has been nothing short of mysterious. Considering how much hype centered around the new entry into the streaming market, it's somewhat to be expected, but the degree to which rumors and speculation have swirled around Apple Music is impressive. Its performance is partly worth tracking because it doesn't have a freemium option. That will test the caliber of its offerings against rivals like Spotify that have larger memberships, but a smaller percentage of paying listeners.