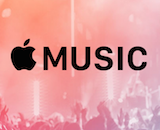 Apple has finally issued official numbers, with the announcement that Apple Music has 11 million trial members. Eddy Cue, the tech company's senior vice president, spoke to USA Today about the streaming service's performance so far.
Cue said 2 million of those are on the family plan, which supports up to 6 people. That plan will cost for $14.99 a month after the free period. The rest are at the typical plan level that will cost $9.99.
Anna Washenko Commentary
Of course, Cue gave a positive spin on this figure, but let's see where it falls in context. At last measure, Spotify had 75 million active listeners and 20 million paid subscribers. Even Rhapsody and Napster have 3 million subscribers. Granted, the 11 million is just Apple's opening foray, but the general assumption is that the number will fall at the end of the free trial period.
Also, bear in mind the size of Apple's potential audience. The mobile experience is the main focus of this service, and any iPhone owner is a potential quick convert to the listening platform. According to research from Consumer Intelligence Research Partners, 97 million iPhones were in use in the U.S. as of the end of June 2015. For barely more than 10% of that huge user base to sign on, especially while the service is free, seems like a lackluster first volley given Apple's reputation and the big investment it made in the new product.
Brad Hill Commentary
It's no surprise that Apple's brass is expressing gladness over an audience of 11-million listeners, and there's no question that some portion of that testing group will drop out after three months. (Keeping in mind that people must manually cancel before the paying subscription kicks in.) It could be that the family plan, which offers excellent value (six people for $14.99/month, a discount of $600/year), will retain customers better than the individual plan.
Eleven million free trials represents 11.3% of the U.S. iPhone device market (see Anna Washenko's research above). But that market is limited to users who update the iOS operating system to v8.4. Macworld reported that 40% of iPhone users had upgraded within eight days of v8.4's availability, which that publication described as an impressive number largely driven by interest in Apple Music. Macworld also notes that only 84% of iPhones have been upgraded to any variation of v8.x — a baseline statistic which limits the Apple Music market from the start. Anything more is guesswork, but the main point remains that upgrading iOS is what defines Apple's addressable market for the Music/Beats 1 service.
Apple's competitive progress will hit a milestone after the three-minth trials end. If Apple Music keeps 2-million paying users (some mix of family and individual), that will be a jump from the sub-million user base achieved by Beats Music. And while Rhapsody/Napster would still have the upper hand in that scenario, that service has been operating since 2001.