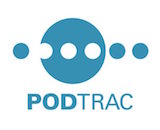 As podcast publishers, hosting companies, and advertising sellers circle around audience measurement standards, the IAB 2.0 Podcast Measurement Technical Guidelines represents a hot topic. some podcast entities comply now with those guidelines, others have a compliance schedule. Podtrac, which offers a cross-industry measurement service, has cut through some of this noise with a statement clarifying its adherence to the IAB's proposed standard.
"The IAB Podcast Metrics 2.0 Guidelines are consistent with Podtrac counts," Podtrac asserted in a blog post published yesterday, noting that IAB compliance informs Podtrac's monthly Podcast Industry Audience Rankings. "Podtrac, the most used podcast audience measurement system, and the audience counts for the thousands of publishers who use it, have always been consistent with the new guidelines."
We asked Podtrac Founder and CEO Mark McCrery about the statements. He noted that Podtrac is a member of the IAB Tech Lab Podcast Technical Working Group, and his company helped write the latest IAB guidelines. He also told RAIN News that Podtrac has complied with IAB standards for 13 years.
McCrery also shined some light on the technology side of ad delivery, speculating that as ad insertion companies get up to speed with "IAB 2.0" (the shorthand moniker for the proposed standard), the balance of realtime ad delivery could increase in podcasting: "Podcast ad insertion companies are putting in efforts to come in-line with the standards podcast metrics companies have been practicing for over a decade. Developing the IAB Podcast Metrics 2.0 Guidelines was an effort to share these best practices with the broader industry. In the most recent IAB/PWC Podcast Revenue Study, 58% of ads purchased were for Integrated ads and 42% were for auto-inserted ads. With the adoption of IAB Podcast Metrics Guidelines 2.0 by ad insertion companies and their publisher customers, perhaps over time we'll see an increase in ad spend against auto-inserted ads."
In another article, Podtrac emphasizes one of the key mandates of IAB 2.0 — the 24-hour look-up window. That is the time period required by the IAB to count all requests for a podcast episode as a single request. So, if a podcast listener starts an episode at 6pm while making dinner, does not complete the download, and opens the episode again at 8am the next morning, those two file requests are counted as a single play under IAB 2.0. In our discussions with podcast companies, this is a sticking point which prevents some entities from fully adopting IAB 2.0. A shorter window (say, one hour) counts that scenario as two listens; scaling that sort of measurement across thousands or millions of listeners makes a huge difference in advertising sales.