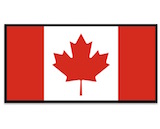 The Canadian Radio-television and Telecommunications Commission has shared its annual data, which showed contractions to broadcast radio and television as media consumption trends online. Total broadcasting revenue fell 3.3% over 2016 to 2017 $17.3 billion.
Commercial radio stations in Canada posted a 1.9% decline in revenue to $1.52 billion for the year ending August 31, 2017. Stations in languages other than English and French saw revenue rise more than 5%.
"The pace at which revenues are shrinking is showing signs of slowing down," the CRTC said on behalf of the 700 stations operating across Canada.
Earlier this summer, the CRTC published a report seeking changes to how the government approaches the digital media market in order to remedy the declines seen within traditional broadcasting. It called on Canadian leadership to enact future policies that focus on producing and promoting high-quality content and encouraging quick adaptation to changing technologies.