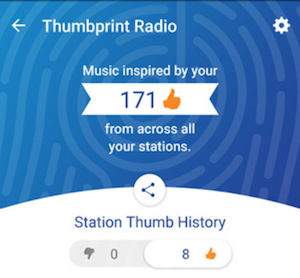 Pandora's latest experiment is a personalized station dubbed Thumbprint Radio. This channel is generated from all of the tracks a user has given thumbs up to across the years. Yes, that can create transitions as strange and wonderful as you imagine it will.
To have access to Thumbprint Radio, your account needs to have at least three stations with at least four thumbs-up songs apiece. From those seed tracks, you'll have a station that should be filled with favorites. On the off chance past you's taste doesn't mesh with current you, Thumbprint Radio behaves like any other Pandora station; if you don't like a song, then give it a thumbs down and scrub it from the channel.
With personalized recommendations so in vogue for the music sector, it's little surprise that Pandora has built a way to participate in this trend. Pandora's philosophy appears to be more in line with My Favorites by iHeartRadio rather than with Spotify's Discovery Weekly or Apple Music's curated lists. By making the station based in songs already on file as good ones for a given person, it could be a more reliable way to please listeners than the average radio channel. Depending on how active you are with Pandora, you will hear some percentage of tunes that you haven't thumbed, but new tunes aren't the main focus.
At its best, this station sounds like an on-demand playlist from an interactive streaming platform played on shuffle. With Pandora prepping to add on-demand functions to the long-time lean-back experience, Thumbprint Radio is a first tentative foray into what that cross-over space could look like.