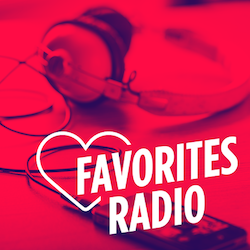 Many streaming platforms promise tools for personalized listening, but few radio services have explored programming that crosses genre boundaries. Spotify added its popular Discover Weekly playlists, and platforms such as Radical.FM and the now-shuttered Mad Genius Radio offer listeners more interaction with their mostly lean-back experience. The latest to explore this space is iHeartRadio, which launched a new feature called My Favorites Radio. This station collects all of a given user's favorited and thumbs-upped tracks and artists across all genres to create a single personalized playlist. Both Brad Hill and I took a spin through this feature to hear how things worked.
If you've provided a huge backlog of data to the service about your music tastes, as Brad has, then you'll probably hear a high percentage of familiar tracks right away. And the genre-bending capabilities of My Favorites came into play immediately: his station hopped from the Beatles to electronica to Jerry Goldsmith.
My experience was very different. I'm don't have a deep iHeartRadio history, so I was building my favorites from scratch. Fortunately, the station fills out the play rotation with artists similar to the ones you have favorited. For instance, my Jill Scott radio fandom led to hearing some great tunes by Erykah Badu and Anthony Hamilton. However, the lack of data meant that even though I added a few rock tracks and artists to my favorites, my station never left the R&B/hip-hop umbrella.
From our combined experience, the amount you'll enjoy My Favorites will depend on a couple factors. First, how much have you already told iHeartRadio about what you like; more data gives your experience a big leg up. Second, though, is just what you want out of the listening time. If you want to hear your greatest hits, then this is ideal. When you want a lean-back experience that sets a flow, though, then you'll want to pick a different station. Some times I'm happy to hop from Janelle Monae to Arcade Fire to Major Lazer. Some times that'd give my ears whiplash.
Fortunately it's an easy enough task to switch to one of your other stations if the Favorites one isn't hitting the right notes for you. iHeart's customization options mean that listeners can almost always find what they want. The My Favorites Station is a great addition to iHeart's programming roster. Just don't expect the technology to read your mind.