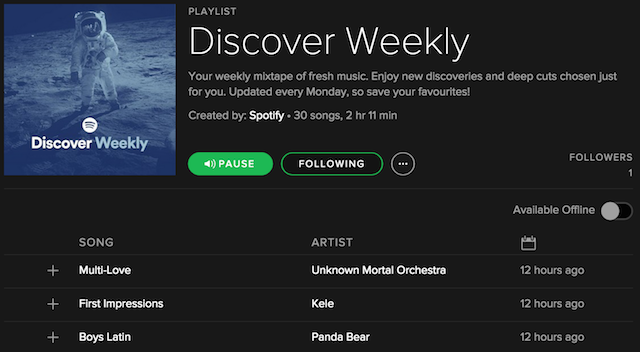 Spotify has launched a new feature called Discover Weekly. This is a two-hour playlist personalized to each individual listener. The song choices for the Discover Weekly list stem from your particular music taste and what other similar fans are listening to. Spotify is billing it as a custom-made mixtape delivered each Monday morning.
This addition seems like another response to the heavy curation and personalization focus that Apple Music promised with its recent launch. Google Play Music threw its hat in the ring last month with the addition of human-made playlists for mood or activity. Spotify has always been comfortable combining the cold-hard computer algorithm approach with some human meddling in its playlist offerings, and it has launched several efforts in the past to provide music recommendations based on personal music taste. But this seems to be the first personalized discovery option that will be dynamic and a permanent part of the Spotify experience.
So how good are the recommendations? Pretty solid.
Mostly, this feature makes me curious whether each update will reflect my general listening choices or particularly what I was into last week. Based on my results, I'm inclined to say it's not fast enough to reflect your weekly whims. I was enjoying a lot of pop-punk from the early 2000s last week, but today my list is favoring indie rock (think Of Montreal, Dirty Projectors, Best Coast, Deerhunter) with some electronic flair. I would have liked to see a closer to real-time set of suggestions, but maybe those will get more specific to my listening whims over time.
That said, I like my set. I was pleasantly surprised was how much I liked many the bands that I'd never heard of before. Any time a song came on and I thought, "Man, I am digging this," it was something totally new. That said, I am not a crate-digging music obsessive, and that type of "High Fidelity" level aficionado may not find as much fresh in Spotify's offerings. I'm definitely curious to see how the playlist changes over the coming weeks and if Spotify can keep a high hit percentage over time.