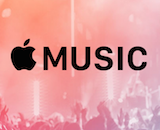 It's here. Apple Music landed on iPhones today and I spent the morning exploring the new platform. Several of the features are unchanged in their core functionality, so instead I explored the For You recommendations and listened to the ambitious Beats 1 broadcast.
For You
For You starts by collecting your genre preferences and seeding with some artists. As someone who favors rock, hip-hop, and jazz, those were my top choices. The top artist seeds I selected were Outkast and Alabama Shakes, along with Stevie Wonder, Bat for Lashes, Art Blakey, John Coltrane, and Mary J. Blige.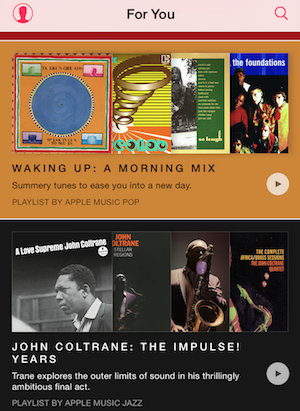 The recommendations seem to have missed the blowsy southern rock of the Alabama Shakes, but I'm pretty pleased with the suggested albums: Erykah Badu, Mumford & Sons, The Rolling Stones, and Clipse. Pretty close to on point. But based on the big game Apple has been talking, the curated playlists are what I'm most curious about. The list leads off with R&B slow jams, which, while I am a big fan, are definitely not what I'm in the mood for at work on Tuesday morning. So I try the morning mix it delivers, which promises to offer "chill vibes" and "upbeat tunes" from the Apple Music Pop department. This list does deliver an energizing bounciness, but I never would have described the songs as "chill." It kicks off with The Talking Heads, for crying out loud.
I'm also especially curious about how well Apple will reflect my interest of jazz, an oft-maligned genre in the streaming world. The recommendations do include a focused playlist of John Coltrane songs from his late years at Impulse! Records. This introduces me to a collaboration album he made with Duke Ellington, but I'm not getting introduced to new artists yet. Supposedly favoriting tracks will improve the recommendations you get, but I'm not clear how often they refresh at this stage.
Beats 1
The real star of the service is the Beats 1 radio show. Zane Lowe is a real talent, and he's a great charismatic presence for the platform. This is probably where the real music discovery will happen on Apple Music. Lowe will have lots of new artists to introduce and his shows look to have a great range of listening. He does have plenty of tie-ins to the latest offerings within Apple Music, such as an early play of AC/DC, which just arrived on streaming platforms this morning. It's not distractingly as promos go, and I can roll with it as long as the music stays good (although I will confess that I switched back to my For You playlists when AC/DC came on). Sometimes his on-air banter creeps pretty far into the song, and he occasionally gets excited and starts exclaiming during a track's climax; it's a little more intrusive than the traditional terrestrial DJs go for, but perhaps it's a stylistic choice of his.
Aside from a handful of times when the stream skipped and replayed almost a whole minute of the broadcast, I had no problems listening. This is a promising enough start that I'm looking forward to hearing the other DJs and what they bring to the table.
The Critiques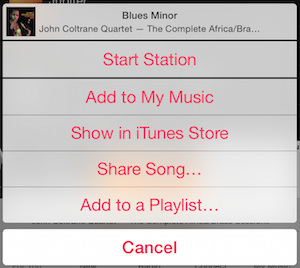 My biggest issue with Apple Music is how fussy the design of it is. Apple made its name on clean, elegant design, and that is really lacking here. Apple Music feels bloated. There are too many buttons and possible actions, but I still can't always do what I want. For instance, I wanted to start a playlist of jazz songs after hearing the Coltrane/Ellington track, but I had to leave that section and go into My Music to make the playlist.
Also, adding songs to my collection from the Beats 1 is hit or miss. I wanted to save a track he played by an R&B singer named Gallant, but my only options were to start a station based on the track or to share the station. Maybe this is a licensing issue, because I did have more options with other artists Lowe played to save and add to playlists. But it did show the cracks in Apple's claims to have the most comprehensive music ecosystem.
Finally, I think the service suffers from not having a web option. I want to listen on my laptop. Sure, I play plenty of music on the go from my phone, but I also am tied to my computer during the day. It's really not ideal to run out my phone battery while I write, to switch between two devices when I want to skip a track or change playlists.
I'll be intentionally spending more time with Apple Music for the duration of the free trial so that I can update my opinions here if they change. But my gut reaction is that Beats 1 is the only feature I'm really going to want to use for my own purposes, and listening to that doesn't require a subscription. Being an Apple Music member unlocks more options in the social Connect feature, the expert recommendations, and saving tracks for offline listening. Those offerings are pretty underwhelming compared with what I already have. I'm open to being convinced, but it'll definitely take some convincing on Apple's end to keep me around.