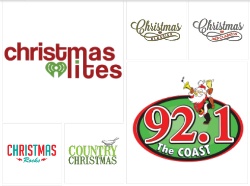 Tom Taylor notes in his morning newsletter that all-Christmas radio is breaking out early on the broadcast side. Taylor's interpretation: "Most are an attempt to lay claim to the local market's Christmas image — even if it irritates regular listeners."
Local broadcasters walk on a thin November ledge between pushing Christmas upon listeners too soon, and attracting Black Friday ad dollars before it's too late. Most online music services don't have a sufficient local sales effort to worry about that conundrum, Pandora being the exception.
But a close look at activity in several music services this morning offers indications that users might be swinging into the holiday mood sooner than their in-house programming departments. Holiday listening stations don't usually appear in the genre lists of music services this early in November, and that trend is born out. The following services lack a Christmas or Holiday preset in their "stations" lineups: iTunes Radio, Pandora, Spotify, Rhapsody, Rdio, Slacker (even as a sub-genre of Christian).
Interestingly, user-generated 8tracks.com shows a Christmas tag fairly high up the genre list (Android app), and digging into the details on the website shows over 300 user-created Christmas playlists, dozens of them created in the last few days. Creator comments reveal an eager early-season jubilance: "The jolliest time of year is back!" Some of these playlists were assembled in mid-October, indicating some degree of appetite for the Christmas spirit even sooner than broadcast radio is willing to bet on.
Perhaps unsurprisingly, Clear Channel-owned iHeartRadio is displaying a "Holiday" channel preset this morning in the Live Radio section. Some of the listed stations are pureplays, not live, but the interesting point is user comments — many listeners are happy to find the early dose of Christmas tunes. "Start super-duper early! Why not?"
Note to Apple, Pandora, Rhapsody et al: The Christmas train might be leaving earlier than you think. When you have an unlimited programming slate, it makes sense to claim the space early.