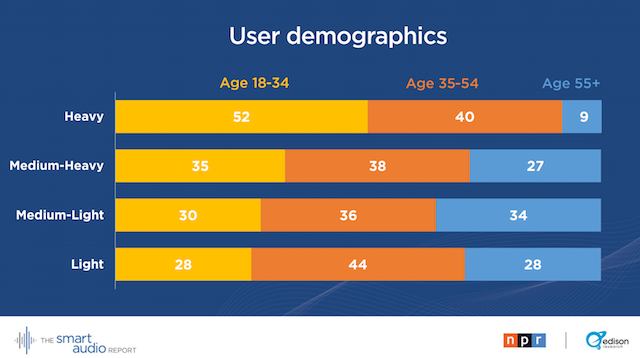 NPR and Edison Research have released the second part of their study on smart speakers and voice control. The first part was released during RAIN's Podcast Business Summit in New York this June. The latest presentation of The Smart Audio Report focused on the specific activities and details of how and why people are using this new product segment.
Survey respondents were asked for why they wanted to own a smart speaker. The top reason was "to ask questions without needing to type," which 87% gave as an explanation. Better music options than FM radio was the reply for 62% and as a replacement for an old radio or stereo had 45%.
The distribution of use volume was generally even across the whole audience. A quarter identified as heavy users (11 or more regular tasks) and another quarter as medium-heavy users conducting 6-10 regular tasks. Just over a quarter (28%) said they were light-medium users with between 2 and 5 regular tasks. Among the heavy users of smart speakers, 52% are under age 35, although the 35-54 age group is the largest share for all other groups of use volume.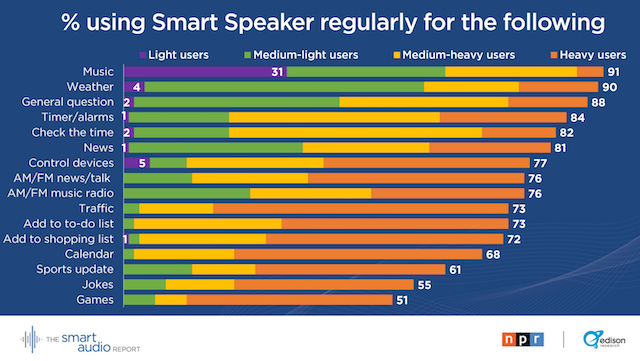 One of the most compelling series of slides in the presentation examined how the different use groups broke down their regular use of the smart speakers. For each group, music was the top activity: 91% for heavy users, 86% for medium-heavy, 61% for medium-light, and 31% for light users.
The data looked at how many smart speaker owners used them to listen to music "frequently" at different points of the day. The 3 pm to 7 pm period was highest with 37% claiming frequent listening, followed by 7 pm to midnight with 31% and 5 am to 9 am with 27%. For smart speaker owners with children in their household, the rates were higher for each period, although the overall trends were the same as the overall base: 45%, 40%, and 36% for the respective top time periods.
Just over half (52%) of respondents said their smart speaker is located in the main living space of their home. The kitchen was a distant second with 24%, followed by the master bedroom at 12%.