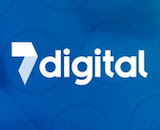 B2B music provider 7digital has entered a partnership with famed guitar brand Fender. Under this deal, 7digital will collaborate with Fender to help the company grow its offering of online and mobile products.
"Since the period end we have continued to make good progress in licensing, agreeing several key contracts as the digital music industry continues to expand into new areas of current music consumption," 7digital CEO Simon Cole said. "These have included an agreement, announced today, with Fender, one of the world's leading musical instrument companies, to provide technology and access to music and metadata."
Just this summer, 7digital has announced a slew of new business partnerships with companies such as HDmusicStream, SoundHound, and Electric Jukebox. 7digital also had some internal changes this year with the acquisition of music services provider 24-7. That move which saw previous 24-7 owner MediaMarktSaturn becoming the largest individual shareholder in 7digital.