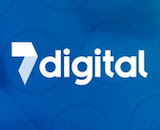 B2B music provider 7digital has entered a partnership with SoundHound. The two companies will collaborate to develop digital music solutions. SoundHound's Houndify platform will provide voice AI and speech recognition tools that 7digital will use to offer customers more experiences centered around music.
"Having worked with SoundHound for a number of years, we are excited to be deepening this relationship to the benefit of our mutual customers, present and future," said Pete Downton, deputy CEO of 7digital. "Voice and AI are set to be the catalysts for re-imagining music streaming in the home and car, where there is huge potential for growth over the next few years."
7digital has inked two other deals this month. It completed the acquisition of 24-7 from MediaMarktSaturn. It also signed on high-resolution streaming music service HDmusicStream as a client.